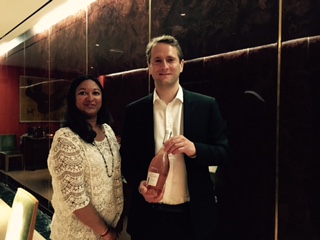 Very delightful tasting and lunch today with Benoit Roussillon, who is the North American Export Director for Val D'Orbieu wines.
The company works with many private estates and cooperatives in France to bring the very best wine of France to markets around the world. Though they work with an assortment of producers to export wines at a variety of price points, quality is always their main goal.
After tasting their range of wines — and also extensively speaking to Benoit himself – it's very easy to see this is a well run company that produces a win-win situation for both consumer and winery/cooperative.
Benoit is extremely market savvy, and knows the importance of first understanding the client and then producing a wine that is made to their specifications.
I hope to feature a more extensive Q/A with him in a futher post!