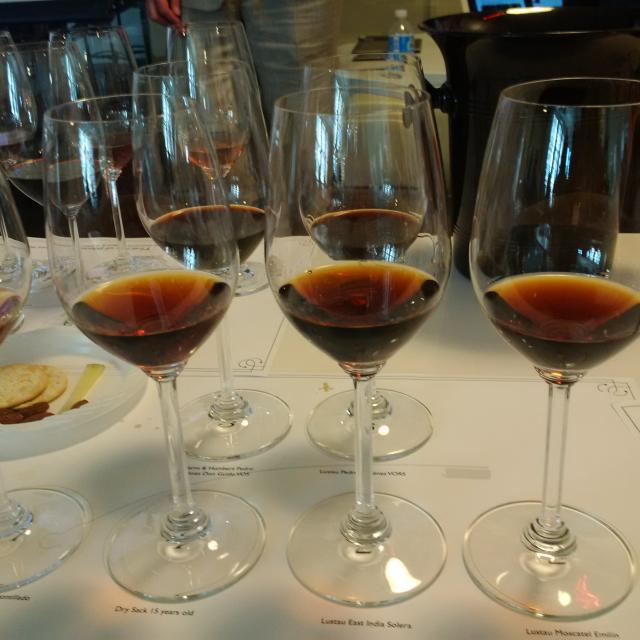 Hats off to Peter Liem for bringing SherryFest to NYC once again. This is a near week of festivities surrounding this magical and somewhat mysterious style of fortified wine that has a long and delicious history.
Few people recognize the variety of styles of Sherry, which is what the week of seminars and dinners helped clarify.
Yesterday represented an entire day of Sherry seminars, and after attending three of them – plus a sherry pairing dinner at Toro – I am pleased to say I am not saturated and looking forward to more Sherry today at the Grand Tasting and tonight at Racines' restaurant for the Grand Dinner.
Before I talk about the seminars I would like to share how impressed I am by the passion of everyone connected to Sherry, from the producers to the sales people to the Consejo Regulador. Everyone seemed so delighted to be in New York presenting their wines and celebrating Sherry.
First, I should explain that Cesar Saldana, the very personable and  charismatic Director General of the Consejo Regulador, prefaced every session about how Sherry was made, so people new to Sherry can follow along.
So the first seminar I attended was called  "The Art of Blending" and featured Paola Medina, head winemaker of Williams and Humbert, and Myrna Santos Mayor of Lustau. We had several wines – all with residual sugar – to taste and we learned about the art of the blend. One of the most interesting things discussed was the fact that in the 18th century, the English consumers demanded better quality sherry and longer aged Sherry, which may be the reason that today you will find so many 30 year old VORS Sherry (very old and rare).
The second seminar was titled "Aging Sherry Without Flor" and was very interesting, as it featured two dynamic gentlemen: Lorenzo Garcia-Iglesias of Bodegas Tradicion and Pelayo Garcia of Delgado Zuleta. The wines – mostly the Amontillado style along with some VORS Oloroso and Palo Cortado – were excellent and reinforced everything that is brilliant about Sherry. The seminar demonstrated how oxygen affects the character of Sherry.
The last seminar was a real – and  rare – treat. Titled "Vintage Sherries," it featured the lively, energizing, and rather poetic and philosophical Antonio Flores, head winemaker and master blender of Gonzalez Byass, As you may now, most sherry is a blend of numerous vintages.  Vintage sherry is VERY RARE. We had the opportunity to taste 1994, 1989, 1082, 1975, and 1967 vintages from Gonzalez Byass. It was incredible and I would probably say that the rich, deeply flavored 1975 Palo Cortado was my favorite.
Then Antonio Flores spoke again at Toro during the dinner, and I can't say enough about this man's charisma and passion for Sherry.
Update