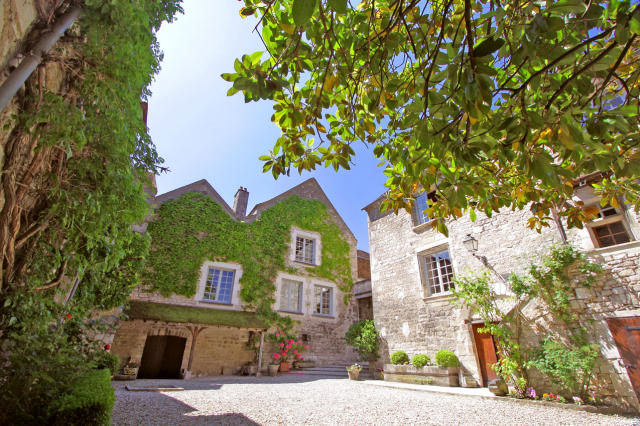 Isn't this chateau gorgeous? Just insert yourself in this photo and imagine yourself sitting in the shade, sipping a chilled glass of Grand Cru Chablis…
Well, I can SO easily imagine myself doing just that! Last night, this magical scene was transported to Betony restaurant in Manhattan, where winemaker Gregory Viennois and team brought several wines for journalists and sommeliers to try, paired with some very exciting dishes.
First, let me describe Gregory, who is young, passionate, and speaks several languages including English and German. Before coming to Domaine Laroche, he worked for Michel Chapoutier and made red wine so he is a gentleman who really knows his craft.
Since I am fresh from a winemaking course, though, it seems as if white winemaking – especially at the Grand Cru level – is more challenging. There is an art to this, because the winemaker has the pressure of being the "translator" of the terroir to the glass. At the Grand Cru level, there is no room for error – no manipulation of the wine.
So last night, guests tried several wines that really expressed the variety of terroirs owned by Domaine Laroche. But first, some history …
Domaine Laroche has a history that dates back to 1850, when Victor Laroche purchased his first parcel of land in Chablis. Michel Laroche joined the family business in 1967, and today remains at the helm. Under his stewardship, Laroche has become one of the most respected producers in Chablis and is one of its largest landholders of grand cru vineyards.
So last night we had the opportunity to sample many wines from these grand cru vineyards. We began, though, with the 2013 Saint Martin, a blend of the best plots of Domaine Laroche in the Chablis appellation. All plots are located on Kimmeridgian soil with a west to northwest orientation. This was paired with cured Hamachi with horseradish and sorrel. It was a very rich, complex wine.
Next was the 2012 1er cru Les Vaudevey.  Domaine Laroche is one of only three proprietors in Les Vaudevey, owning 9.96 hectares (24.61 acres) of the 41.33-hectare (102.13 acres) premier cru vineyard. Planted on steep slopes of 195 to 235 meters (640 to 771 feet) with an eastern to southeastern exposure, the wines enjoy morning to early afternoon sun. They are, therefore, protected from excessive heat and mature slowly, developing a delicate flavor profile. Served at the same time for purposes of comparison was the 2012 1er Cru Les Vaillons Vielles.  Les Vaillons is a well-favored site with an elevation of 180 to 200 meters (590 to 656 feet), a generous southeastern exposure and well-drained soil. During sunny vintages, the grapes attain perfect ripeness in this premier cru vineyard and produce wines with bright fruit flavors.  Both these wines were paired with Asparagus Veloute with Crème Fraiche and Salmon Roe. You might have heard that asparagus is hard to pair with wine, but the match was excellent.
The next flight included two wines: 2012 Grand Cru Les Blanchots and 2012 Grand Cru Les Clos, both paired with Spanish Mackerel. Domaine Laroche owns 4.57 hectares (11.29 acres) of the total 11.65 hectares (28.79 acres) of Les Blanchots grand cru in Chablis. With eastern and southern exposures on a steep slope ranging in elevation from 155 to 215 meters (509 to 705 feet), these old Blanchots vines ripen with a matchless minerality and aromatic richness due to the Kimmeridgian soil and the vineyard's eastern orientation, which protects the fruit from the late afternoon sun. The wine had a silky mouthfeel supported by racy acidity. Les Clos is located straight in front of the village of Chablis at an elevation of 139 to 166 meters (456 to 545 feet) with a southern exposure. This favorable sunny exposure allows the grapes to achieve excellent ripeness. This was really a "wow" wine with an intense finish and a sense of "crushed rocks."
A trio of wines were presented with the main course of seared scallops, and hats off to the servers (and also the Wilson Daniels team) for organizing things so excellently … there were quite a few glasses which made it interesting to compare and contrast.  So the three wines were 2012 Les Reserve de L'Obedience, 2008 Grand Cru Les Blanchots (en Magnum), 2008 Grand Cru Les Clos (en Magnum).
Réserve de l'Obédience is produced from the finest selection of Les Blanchots grand cru vineyards. The eight plots that Laroche owns total 4.57 hectares (11.29 acres) of the 11.65 hectares (28.79 acres) that comprise Les Blanchots. Each plot is distinctive, with different vine age, location on the slope, rootstock, clone origin and soil depth — implying a variety of styles. Vintage conditions also vary greatly. A site with favorable sun exposure may be too warm in sunny vintages; a vineyard with less sun would give more balanced grapes.
At this level of quality, I think it's interesting to note some of the more technical facts. All or most of the grapes at Chateau Laroche are whole bunch pressed and settled for about 12 hours at 12 – 15 F, yet its interesting to note that the tanks are designed to be wide to accelerate the natural settling process, hence reducing the need for sulphur dioxide. Also interesting to note that in this wine, the grapes from each site are fermented separately for 3 weeks (60% stainless steel, 40% French oak, 15% of which is new)  100% Malolactic is typical, and after aging for about 8 months, the individual lots are blended together from the best wines and aged for another 14 months.
The 2008 Grand Cru Les Blanchots has just come into its drinking window. Lots of lemon/lime aromas and rich round flavors.   The 2008 Grand Cru Les Clos has a great balance of ripe white fruit and lively acidity. Exceptionally long finish with vibrant minerality.
You might find it interesting to visit the website and click around on the interactive map.
There is so much to discover about Chablis – for me at least, it is an evolving adventure. Throughout the tasting dinner – though by nature it had many distractions (new courses, conversations) I really tried to focus on the wines, comparing and contrasting the various vineyard sites and seeing what made them different.
Gregory Viennois was a brilliant speaker, using the interactive map to showcase the different terroir and explain why they created such different wines. I was lucky to have him as my dinner partner, and learned quite a bit about the challenges (frost, mostly) of producing wine in this cool climate region.