PATRICK CAPPIELLO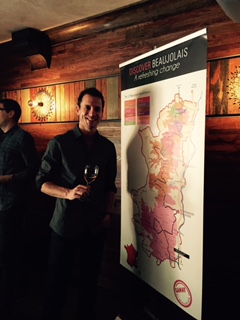 "We have to convince the world that Beaujolais wines are fabulous food wines, winter or summer," I said to Charles Rambaud, who is responsible for the export market for the trade organization Inter Beaujolais.
We – a group of journalists, along Patrick Cappiello, one of the coolest wine guys in New York – were gathered together to enjoy the juicy, red wines of Beaujolais at the ultra cool Huertas restaurant in NYC.
Now you probably know the name Beaujolais and possibly think of it as a fun, easy drinking wine to enjoy with millions of others the third week of November.
Yet Gamay is so much more than that, and this lunch was orchestrated to prove the versatility of the Gamay varietal and ensure that one's knowledge of Beaujolais goes "beyond Nouveau".
Possibly the most important thing to know is that there are ten villages with "cru" status in Beaujolais, and you can read more about them here.
Basically, this means that even though the Gamay grape is grown in all ten areas, the terroir and other factors (hilltops, types of soil) has a huge impact on the taste of the wine.
During this multi-course lunch, both Charles Rambaud and Patrick Cappiello, wine director of the hip restaurant Pearl and Ash, spoke about the wines we had available to sample and their flavors.
The aperitif wine was Gerard Gelin Domaine des Nugues Beaujolais Villages Rose 2014, a pretty pink color and crisp dry finish – made 100% from the Gamay grape.
The second wine was Christophe Pacalet Moulin-a-Vent 2012,and was paired with a small dish of Manchego cheese and other elements. It had black fruit flavors, elements of clove, vibrant acidity and cranberry flavors.
Barbet. Domaine des Billards, Saint Amour 2013 also had clove flavors yet also black fruit and vibrating acidity. There was some discussion of this wine given its name – apparently St. Amour is a popular place to get married. The wine was served with chicken liver mousse.
Coudert, Clos de la Roilette, Fleurie 2012 also had red fruit flavors, zippy acidity, and was served with one of the most delicious octopus dishes I've ever experienced.
Stephane Aviron, "Cote du Py" Vielles Vignes Morgon 2012 was a very structured wine, age-worthy, with both black and red fruit. It was served with Lamb.
Chateau Fusse, "Domaine de la Conseillere," Julienas 2012, was one of my favorite wines, lots of black cherry, a hint of old oak, and spice. It was served with duck breast and Amontillado Sherry.
The last wine, Dominique Piron, Beaujolais Villages 2013, was served with flan and fresh strawberries.
It was fun having both Charles Rambaud and Patrick Cappiello at the table, and the discussion about the wines, their mysterious carbonic maceration techniques, and the differences between the different crus was very interesting.
While we did not have all ten crus at lunch, we had quite a variety and it was interesting to note that even though the wines all came from the Gamay grape, producer technique and terroir had quite a lot to do with the final result.