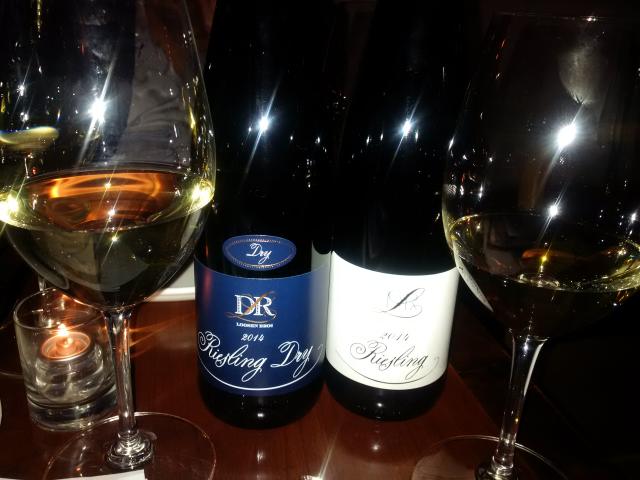 Do you like Riesling wine?Here in NYC, it's all the rage – some fanatics even have the name of this grape imprinted on their arm as a tattoo.

Last night, I tried the  U.S. debut of a new dry counterpart of its highly popular Dr. L Riesling designed to be approachable upon release and sold at a reasonable price point.

"Dry Rieslings are an important part of our heritage here in the Mosel and are becoming a bigger part of what we produce," says winemaker Ernst Loosen. "The Dr. L Dry has already been available in Europe for a few years, but now that U.S. wine lovers are increasingly discovering dry Rieslings, we decided it was time to make it available in the new world."

The two wines last night were Dr. L Dry and the original Dr. L Riesling (off dry, and delicious!) are Ernst Loosen's entry level wines.

Both Dr. L and Dr. L Dry Rieslings are produced with grapes from contracted growers throughout the Mosel River Valley who work closely with brothers Ernst and Thomas Loosen to achieve excellent quality and superb concentration in every vintage.

ABOUT WEINGUT DR. LOOSEN   Situated on Germany's Mosel river among some of the world's most treasured vineyards, the Dr. Loosen estate produces wines that are widely enjoyed around the globe and continue to receive awards and accolades from top reviewers. The estate is a member of the prestigious VDP, Germany's association of top-rated wine estates and has been named one of the 10 best estates in Germany by nearly every wine publication worldwide. Winemaker Ernst Loosen is known worldwide as an "ambassador of Riesling." He was named Germany's Winemaker of the Year in the 2001 edition of Gault Millau's Weinguide Deutschland and Decanter Magazine's Man of the Year in 2005. He also was the International WINE Challenge's White Winemaker of the Year in 2005. More info at drloosen.com.