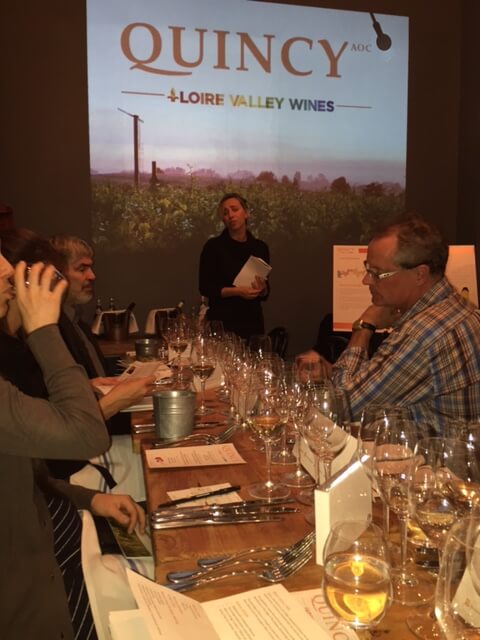 Think you like Sancerre?
On October 20th Master Sommelier Pascaline Lepeletier gave an excellent in-depth exploration of Sauvignon Blanc (young and old) from this notable appellation, the first AOC in the Loire Valley in 1936.
When most people think of Sauvignon Blanc, they think Sancerre … yet Quincy produces quality wines with racy acidity. Possible reasons why it is not as popular as Sancerre can be do to early marketing efforts or uncertainty of correct pronunciation.
It was a brilliant opportunity to try wines from different producers and vintages, some wines were  light and fresh or floral and fruity wines, while the last wines (served with cheese) were from the 2007 and 2009 vintage.
The wines were served in flights to match a custom menu at the Midtown West hotspot OCabanon Cave à Manger. Quincy representative Albin Roux was there to give us a figurative taste of the region!
During the tasting, I struggled to figure how I would differentiate these wines from that of Sancerre. Tasting is always an individual process, but for me the Quincy style had a bit more juicy fruit.
Either way, they are delicious wines and great value.
2014 Domaine de Chevilly
2014 Domaine Gerard Bigonneau
2013 Domaine de la Commanderie
2014 Domaine de Villalin
2014 Domaine Adele Rouzé
2013 Domaine Jacques Rouzé
2013 Domaine du Coudray, "Une Pointe d'Authenticité"
2014 Domaine Mardon "Cuvee Tres Vieilles Vignes"
2012 Domaine du Tremblay "Vieilles Vignes"
2012 Domaine Trotereau "Vieilles Vignes"
2009 Domaine Jean-Michel Sorbe
2007 Domaine Philippe Portier
Menu
Sherry Tomatoes Goat Cheese Tart.
Leeks Quiche.
Frogs Legs Lollipops.
Appetizer: Hamachi Ceviche
Ceviche of Hamachi Flavored with Spices, Limes.
Served with Fennel and Jalapeno.
Main Course: Veal Blanquette
Veal Stew in a White Wine Sauce.
Served with Basmati Rice and Shitake Mushroom.
Selection of Three Cheeses
Aged Cheddar.
Pyrenee de Brebis.
Delice de Bourgogne.