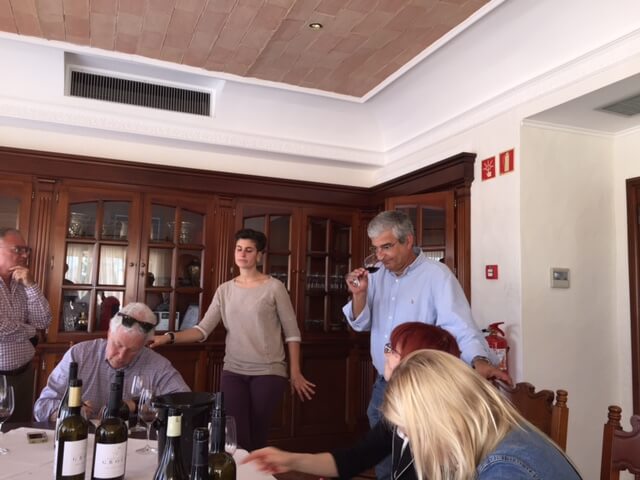 What an interesting visit to Herdade dos Grous in Alentejo, Portugal.
Our hosts for the afternoon of tasting and lunch was the handsome, articulate chief winemaker Luis Duarte and his very sharp, well-traveled assistant, winemaker Mafalda Vasques who I will see this week back in New York.
The estate produces top quality wines from its own vineyards, which are snapped up by the Portuguese market despite their expense, which ranges from about ten Euros to over thirty.
During the tasting, the barrel fermented white wine made from Viognier and local varieties could almost be mistaken for a Chassagne-Montrachet.
The red wines all see oak, ranging from older barrels for the less expensive wines to a mix of French and American oak for the top tier wines.
Luis Duarte explains that he and his generation of winemakers – who graduated enology school in the eighties – were among the first to revolutionize Portuguese wine.
The wines Duarte produces is well-balanced and elegant at every quality level. During the tasting it is quite obvious he is passionate about his wines and always eager to pursue experiments to improve quality.
Mafalda, interestingly, interned at the winery four years ago and just recently, after working in wineries around the world, had been invited to come back and join the team of winemakers.