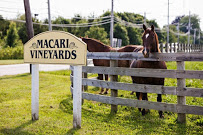 Just tried two new wines from Macari Vineyards in Long Island – always a delicious adventure.
The first was Macari "Early Wine" 2015, so named because this 100% Chardonnay is released just a few months after the harvest, and this wine is crisp and delicious – great for autumn drinking.
The Macari "Alexandra" 2010 is a very special treat … 82% Merlot, 7% Cabernet Franc, and 7% Cabernet Sauvignon, and 4% Malbec it is a special bottling from an outstanding vintage.
Macari is one of the most well-known wineries in the North Fork for good reason!