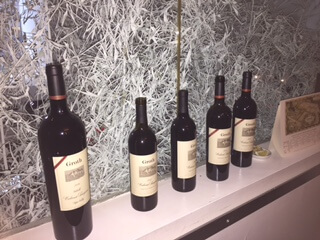 Do You Adore Library Cabernet Sauvignon Wines from Groth?
Today there was an excellent tasting of Library Cabernet Sauvignon wines from Groth, a famed producer in the Oakville region of the Napa Valley.
The library wines began with the Reserve Cabernet Sauvignon 1995 vintage, and included the Reserve Cabernet Sauvignon 1998, Reserve Cabernet Sauvignon 1999, Reserve Cabernet Sauvignon 2006, Reserve Cabernet Sauvignon 2010, Reserve Cabernet Sauvignon 2012, and "normal" 2012 along with the 2014 Sauvignon Blanc.
Leading this special tasting was owner Suzanne Groth, and Cameron Parry, Winemaker
The tasting was special for many reasons, namely because Groth is one of the few family-owned estates in Napa, and though Suzanne is still very young, she is old enough to have seen the transition of the valley first hand from her move to the "sticks" of Napa Valley from San Jose as a young teenager to the world-famous region it is today.
The story of the Groth family is quite interesting – her parents were under 40 when they bought the property, which at the time was producing Napa Valley Gamay and Chenin Blanc. Though the Groths did not have a winemaking background they were able in the course of time to plant Cabernet Sauvignon, Chardonnay, Sauvignon Blanc, and Merlot.
Replanted in 1999 and 2001, the Reserve block was carefully redesigned with select clones, rootstocks, and trellising techniques, each chosen based on years of direct experience and recent advances in viticulture.
This all lead to the wonderful age-worthy wines experienced today.
Winemaker Cameron Parry explained the very complex soil in detail, also revealing that in his new position as winemaker he will soon also be in charge of the vineyards, as the winery prides itself on its fantastic soil and now is even more intent on expressing the terroir in its wines.