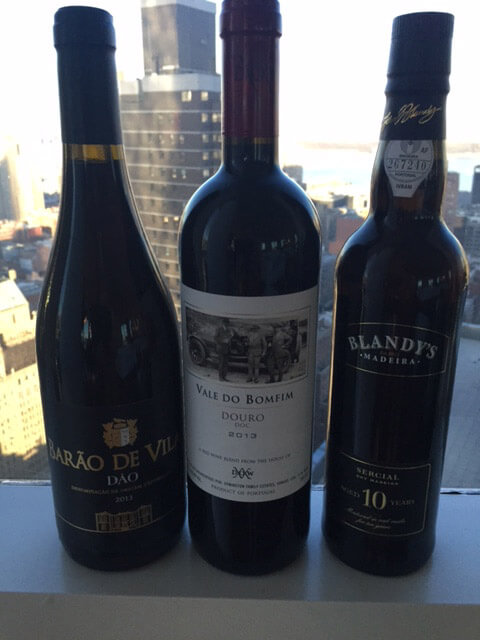 Are you aware of the 50 Best Portuguese wines?
Have you had a Portuguese wine lately? The country has improved the quality for their prized dry reds tremendously, and now offers a program called "50 Best Portuguese wines" curated this year by Master Sommeliers Dennis Kelly, Peter Granoff and Madeline Triffon. According to recent reports, export of Portuguese wines to the US increased by 16.3% in 2015 with dry wines leading the charge with an increase of 22.6%.
I must say that the first time I had a Portuguese red was in 2010, when visiting an AXA estate managed by Christian Seeley. Of course we (other Master of Wine students and myself) were offered the dry reds from Qunto do Noval, but M. Seeley selected others as well so that we could compare and contrast.
In the recent NYC tasting, the 50 Best Portuguese were all fabulous and represent, for the most part, a real value given the concentration of ripe fruit, They are also affordable, which may be the reason why the Wine Market Council study shows that 25% of high frequency wine drinkers purchase Portuguese wines, with 39% of those purchases from Millennials.
In any event, I had the opportunity to sample three of them … and of course the first one that needs to be spoken about is the 10 year old Sercial from Blandy's, a fortified wine aged 10 years in American oak with 19% abv and 35 g/l RS, though it is the driest of the fortified wines and is great with food. You will taste almonds, citrus, and dry nuts.
The 2013 Barao de Vilar from Alvaro van Zeller Red Douro is made from the three main grapes of Touriga Franca, Tina Roriz, and Tina Barroca … vinified in stainless steel then aged in older Frenc/American oak for 6 months.
The 2013 Vale Do Bomfin Red Douro is from the Symington estates and mostly Touriga Franca with Touriga Nacional and other varieties. It's very fresh, with plum, spice, and blackberries.
The red Portuguese wines are great with steak, while the drier fortified whites can be enjoyed with fish as well – depending on the sauce. All very good values for the price