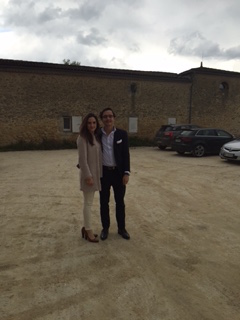 The 2015 Bordeaux vintage looks to be one of the great ones, and on this visit to En Primeur my first interview was with Adrien Olivier of Domaine de Chevalier.
Adrien's father Olivier bought the domaine in 1983, so Adrien and his brother grew up on he estate. Adrien knows winemaking, yet has an MBA and is very focused on the business end of the family estate. He spent many years working in Asia developing the distribution market in that area and is now back living in Bordeaux.
During our conversation, we spent a great deal of time discussing ways of developing a new market, such as China. Adrien is a firm believer in education, so when he was in Asia he educated both distributors and consumers on how to taste and appreciate wine. When he was working in China, not many distributors or consumers spoke French, or English for that matter – so Adrian found himself forced to learn and speak the language.
What was surprising is that in China, Bordeaux isn't just consumed on the ontrade – in high end restaurants. High end Bordeaux is very popular at Carrefour supermarkets, even more than high end wine shops, because local consumers know and respect the brand.
Adrien and I both spoke at length about the importance of social media, and if you google Domaine de Chevalier on the Internet, you will find dozens of videos of the Olivier family discussing the estate and their wines. One of the key values of social media, Adrien explained, is when people repost the videos. One popular video received over 15,000 views in just a two week period.
The Sunday before En Primeur week can be considered its unofficial kickoff. It is held at Chateau Guiraud. The reason is that during a dinner in early 2006, industrialist Robert Peugeot and three wine makers, Olivier Bernard of Domaine de Chevalier, Stephan Von Neipperg of Château Canon La Gaffelière and Xavier Planty, the estate's director, decided to buy Guiraud, uniting their shared passion for wine, gastronomy, nature and hunting. The event showcases the latest vintage of each producer and a fine offering of older vintages as well.
That night I also spoke to the charming David Ornon of Chateau Guiraud, and we discussed the export market at length. I wrote about Sauternes in a feature article for World of Fine Wine, and will link it once I return to New York next week. My main thought was that Sauternes should be served at the beginning of a meal, as an aperitif, the way many people now enjoy Champagne.
I had the opportunity to taste the Clos des Lunes brand of white wine from Domaine de Chevalier, and found it intriguing that it is made in three styles: one matured in stainless steel, one matured with a percentage of new oak, and one matured in 100% new oak. The reason for this, Adrien explained, is that the estate has a variety of terroir, and some are better suited to oak than others.
Adrien is just as charming as his father Olivier, and has a genuine passion for wine and bringing the message of Domaine de Chevalier around the world.