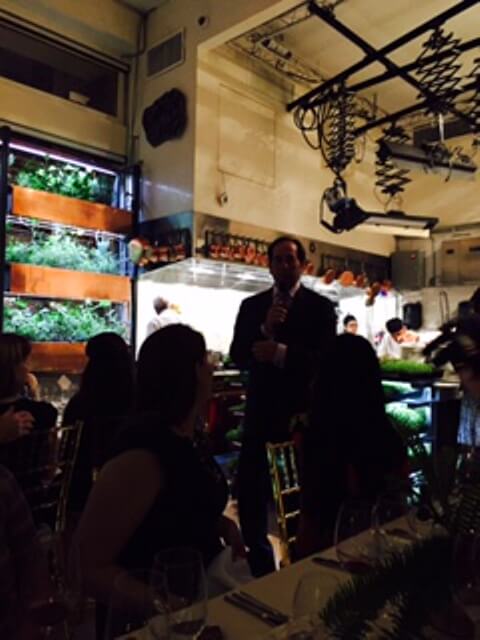 Curious about Josh Cellars Wine?
Fabulous opportunity to taste the range of wines from Josh Cellars, paired with the exquisite, and very healthy, cuisine of celebrity chef David Bouley who had just been featured in a New York Times article
Both Joseph Carr, whose created the brand with his family, and David Bouley are brilliant, engaging speakers, and the evening was about their philosophy of life as much as it was about food and wine.
David Bouley stressed the importance of eating good food for health, and had many intriguing stories to tell about how delicious food – especially butter the way it should be made – can help people lose weight. The dessert, he noted, would be guilt free.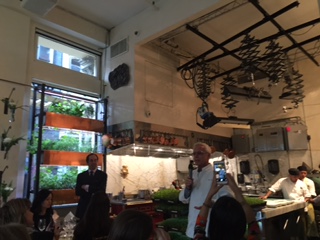 Joseph Carr had many stories as well, often about the art of customer service citing the things he used to do when he was a world-class sommelier to sharpen the experience for his guests.
Carr created the Josh Cellars brand in tribute to his father, a volunteer firefighter who also served in the US Army. The tables all had family pictures to drive home the theme of a family operation.
Paired with the four courses were several of the wines. The 2014 Josh Cellars Pinot Noir and 2014 Josh Cellars Chardonnay were served during the reception. The style of the Pinot Noir was fresh and fruity, with 6 – 9 months of aging, and the style of the Chardonnay was also fresh with tropical fruit notes and subtle oak aromas (aged for New French oak for 8 months, 30% new).
The 2014 Josh Cellars Sauvignon Blanc was also fruit-led, with bright aromas of lime and citrus, while the 2014 Josh Cellars Merlot was more sophisticated as it was oak aged with new French oak for 14 months.
The 2014 Josh Cellars Cabernet Sauvignon was dark and structured, with notes of violet and vanilla bean from 12 months new French oak, and the 2014 Josh Cellars Legacy blend was comprised of 44% Merlot, 44% Zinfandel, and 12% Petite Syrah, a fabulous blend that went well with the chocolate

WINE PORTFOLIO AND TASTING NOTES
Josh Cellars Chardonnay (SRP: $13.99)
Tropical fruits and citrus married with beautifully harmonious oak notes make this Chardonnay one to remember. A delightful harmony of fresh yellow and white stone fruits lingers on the palate and finishes with fresh and clean acidity.
Josh Cellars Sauvignon Blanc (SRP: $13.99)
Bright aromas of lime and citrus are at the core of this Sauvignon Blanc, with layers of white flower nectar, peach and tropical melon. The palate of the wine is fresh and alive with clean fruit flavors and a perfectly balanced finish.
Josh Cellars Legacy Red Wine (SRP: $15.99)
Aromas of blueberry pie, fresh raspberries, sage, rosemary and cigar box fill the glass in this unique red blend of Merlot, Zinfandel, Syrah and Petite Sirah. The wine is dense and lush with flavors of plum, black currant, and dark chocolate, offering a luxuriously smooth texture and a long, juicy bing cherry and cocoa powder finish.
Josh Cellars Cabernet Sauvignon (SRP: $15.99)
Rich, aromatic dark fruits and baking spices delight the nose, yielding fresh plum and blackberry fruit, violet, dried fig, vanilla bean and Chinese Five-Spice. The wine is layered with smoky and sappy maple wood, roasted almonds and hazelnuts and finishes long with fine, firm tannins.
Josh Cellars Pinot Noir (SRP: $18.99)
Aromas of cherry and strawberry on the nose with layers of spicy oak. On the palate, the wine is plush and subtle yet has a firm texture. Dark cherry and chocolate flavors fill the mouth with a rich intensity and lingering finish.
Josh Cellars Merlot (SRP: $15.99)
Aromas of black cherries, fresh plums, violet and dark chocolate overwhelm the bouquet. On the palate, the wine is layered with fresh bing cherries, baked plums, and mocha, softened by its delicate, luxurious texture, and given staying power with a long, raspberry and cocoa powder finish.