Curious about high and wine from Chile? Patrick Valette has the answer

I just had a fabulous tasting with Patrick Valette, the technical director of The Winery at VIK Vineyard
Patrick is a very charming gentleman, who has lived and worked all over the world. Born in Chile to French parents, he went back to Bordeaux at the age of seven, and is very much a man born out of several cultures.
Yet his primary culture is the culture of wine, as his family has been in the wine business for generations.
Today however, the conversation was all about the exciting work he is doing at The Winery at VIK Vineyard in Chile.
The Winery at VIK Vineyard is an 1100 acre vineyard attached to a luxury retreat. It's vines were planted in 2006 and Chile's Millahue Valley and now the object wine commands prices of over $140 a bottle.
What's most interesting about this wine is it has a sense of place that is both unique, and familiar. Because of its high price, and the care taken in the vineyard as well as the winery, in some respects you can taste that same quality you would find in a very high end collectible Bordeaux.
Of course the quality is characterized by the word "money."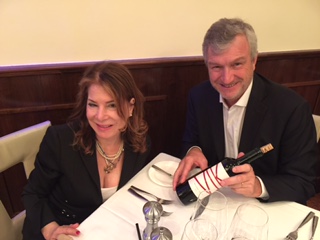 Money takes its form in the hundred percent of new French oak barrels, and also the maturation time of 24 months.
Money also takes its form in the tender care taken in the vineyard to match each varietal with the appropriate roodstock. This is because there is a variety of terroir types are in the area.
One interesting topic of conversation today is that it's typical to ask a winemaker how he or she does the exact right moment to pick the grapes. While this is still a valid question, what's interesting about Patrick, is that he jumps the gun by paying even more careful attention to canopy management. That is to say he wants the exact right shading on the grapes from the leaves. Though technical director he considers himself a viticulturist at heart.
So on to the wine.
The wine is not surprisingly called Vik. The 2010 is comprised of 56% Cabernet Sauvignon, 32% Carmenere, then small amounts of Cabernet Franc, Merlot and – Syrah.
"Why Syrah?"
Patrick says that the addition of Syrah in this Bordeaux blend is to add fragrance. He underscores that this is the violet flower aromas found in this clone of Syrah, rather than the meatier notes sound in a different clone.
I tried both the 2010 and 2011 vintage of VIK, and both are terrific.
Again you taste that "money" character you can find in expensive for fuller bodied wines all over the world (namely Bordeaux, high-end Australia, and also high-end Chile). Tasting a blind, one might be stumped to deduce if Vik is Bordeaux, Super Tuscan, or a high-end Chilean wine.
The conversation with Patrick was really wonderful. Being able to speak about viticulture and winemaking with him made me very proud I had the opportunity to take wine making courses at UC Davis and also attend the Bordeaux Agro University class with Kees van Leeuwen.