What a fabulous kickoff for the new vintage of Duboeuf Beaujolais Nouveau last night!
The elegant venue for the launch of Beaujolais Nouveau was Bouley Botanical with the stars of the show – Georges Duboeuf, son Franck Duboeuf, and Franck's charming wife Anne in attendance!
I was lucky enough to be sitting next to Anne at one of the many round tables in the room, and had a fascinating time speaking to her about her life with Franck and representing so very well the signature grape of the Beaujolais region!

Anne had attended oenology school, and met Franck when she started working at the winery. They have three children – two girls and a boy – with the son expressing a desire to go to oenology school.
After an extended cocktail party, the evening began with some nice speeches about this celebrated grape and corresponding event (the third Thursday in November traditional launch of Beaujolais Nouveau, meant to drink when it is young and fresh.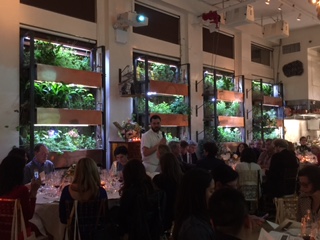 Brilliant executive chef David Eddy of Rebelle prepared the fabulous multicourse meal.
The first course was Foie Gras paired with Duboeuf Beaujolais Nouveau 2016.
Next was the gorgeous scallop course paired with Duboeuf Pouilly Fuisse 2015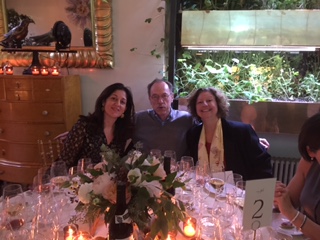 The beef course was paired with two wines: Chateau des Capitains Julienas 2015 and Jean-Ernest Descombes Morgon 2015
It was a fabulous night, and there is security in knowing that people all over the world celebrate this #BeaujolaisNouveau day.