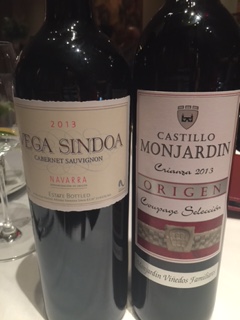 Think you know wine from Navarra, Spain?
Think again.
Navarra is famous for its rose wines, even though it is almost within jumping distance of the red-wine Rioja region.
This week I had the opportunity to taste many red wines from Navarra, including red Bordeaux style blends with Tempranillo, Merlot, and Cabernet Sauvignon as well as pure single varietal Syrah.
I was surprised and impressed by the structure of all the wines, almost all of which had long maturation in oak.
The quality of the wines were very high, and it is indeed a wonder why Navarra's fine red wines are not better known.
Vinaio, Winebow, Monsieur Touton, NYSUS, and Classical Wines from Spain are among the importers.
The wines included:
Inurrueta
Castillo de Monjardin
Nekeas
Marco Real
Pago de Larrainzar
Principe de Viana