Do you like tacos? Maybe the better question would be what kind of tacos do you like more, Jerk Chicken Tacos or Shrimp Tacos with avocado mash?
And of course the most important question of all is what WINE should you have with your tacos?

Recently I was invited to a dinner celebrating the match between innovative tacos specially paired with wines from Casillero del Diablo.

The match makes sense, right? Ready to eat tacos (no fork necessary) and easy to drink, thirst quenching wine from South America. Luckily Casillero del Diablo offers a range of great tasting varietals so it was an easy – and I'd imagine fun – task for the chefs to find the perfect wine and food pairing.
Okay, here's the deal. For several seasons, Casillero del Diablo has been a major sponsor of Hell's Kitchen, a very popular TV chef show featuring Gordon Ramsey. Lucky, talented chefs LaTasha McCutchen and Meghan Gil won the competition and part of the goodies included developing innovative new taco recipes for pairing with an array of South American wines from Casillero del Diablo.
As a special icing on the case, the kitchen in question was among the most famous in living history, as it is the kitchen of the Rynwood estate in Old Brookville, Long Island – a historic property that had been painstakingly restored.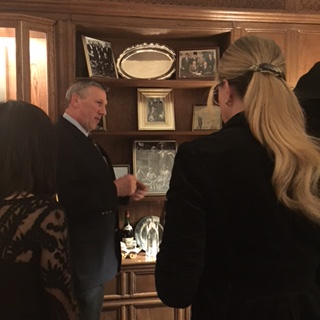 Though I arrived at six pm (just in time for the dinner!) Meghan and LaTasha had been cooking all day (in front of TV cameras no less).
Dinner was beautifully served in various courses, with three Casillero del Diablo wines served with every course to showcase the range. The first course as a very zesty and refreshing shrimp taco enlivened with watermelon bits, served side by side with another taco dish – Jerk chicken with spiced peach salsa.
The three wines paired were the Sauvignon Blanc 2016, Chardonnay 2016, and a blend called "Devil's Collection 2014" that included aromatic varieties and a certain viscosity. So I though the perfect matching was the Sauvignon Blanc with the shrimp, and the Chardonnay and Devil's blend with the chicken. Of course, it's all personal preference but texture of the Chardonnay and Devil's blend was creamier and more in matching with the texture of the chicken dish.
The next two red wines, both 2015, were the Cabernet Sauvigon and Carmenere. These were paired with two tacos: Flank steak in chipotle sauce and crispy beef shoulder tender, with tomatillo and avocado lime cream. Now both these wines went great with both tacos – it is a matter if you like the sharper tannins of the Cabernet Sauvignon or the milder sweeter tannins of the Carmenere.
The Leyenda Cabernet Sauvignon 2013 was also served later with the meat tacos, yet was meant to be enjoyed with the Manchego and double cream Brie cheese course – now this was a perfect matching.
The evening was exquisitely planned out and it was great to see this fun, fresh approach to wine promotion. Though Meghan had to leave early to get back to Atlantic City, LaTasha was able to join us for most of the dinner.
She is a vibrant, very refreshing woman who actually decided to try out for the TV show at the very last minute, and got the spot! I have a feeling it had to do with her scintillating personality. Yet when asked, LaTasha explained that she told the interviewer that she was motivated to be a chef by her grandmother's cooking.

The chefs and Casillero del Diablo did a great job in showcasing the talents of America's young chefs and taste and versatile nature of S. American wine.