So this morning I changed my schedule in order to meet with the ProWein team who've come to NYC to meet journalists and give us a preview of what ProWein 2017 has to offer.
I've been attending this excellent trade fair for a number of years in order to re-connect with favorite producers, meet new ones, and explore new trends. It was at ProWein where I see all the trends that spark article ideas for the next year.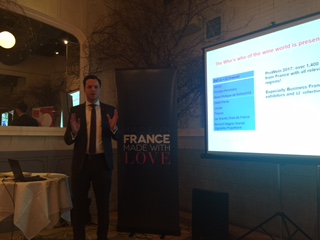 In any event, the press conference this morning at Park Avenue Winter was informative. New technology will allow visitors to better navigate the French Pavillion, which is helpful. ProWein has long offered an iPhone application that helps visitors better navigate where the countries and producers are located.
Marius Berlemann, Director of ProWein, gave an excellent presentation showcasing why ProWein is the best trade fair (many producers I speak with say it's the only fair they attend) and some interesting statistics. Aude Guivarch, of the French company Business France, gave a presentation about what's going on in the French Pavillion. Though there will be an "organic wine" section within the French Pavillion, producers can choose if they want to have their stand in the organic section, or outside of it.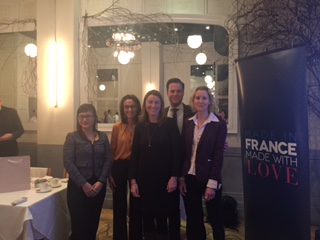 ProWein is just a month away so I'm excited now to visit!
Typically, I like staying at a hotel right across from the trade fair – breakfast is where you can make really important new connections. It also saves an hour of traveling on the streetcar … a route that should only take ten minutes. This year, i'll be staying in town.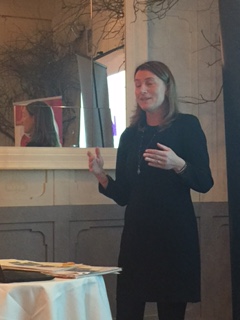 Other than that, many of the ProWein favorites remain the same — the Champagne Bar will return, and since wine infused cocktails are so popular around the world, mixologists will be giving demonstrations.
Drinks Business usually also has an event, announcing the Winemaker of the Year.
Below are some additional statistics about ProWein, with some interesting quotes from representatives about why they are attending.
***
The variety of ProWein is unique worldwide. No other event offers such a wide and international range. At ProWein 2016 all relevant wine regions of the world were represented, including numerous market leaders from Europe and abroad. The largest exhibitor nations this year included Italy (1,500), France (1,300), Germany (1,000), Spain (550), Austria (320), Portugal (300) and overseas (600). In addition, there were some 420 exhibitors from 30 countries in the spirits segment. Exhibitors from 59 nations took part in ProWein 2016.
Compared to ProWein 2015, trade visitor participation increased by 6% (2015: 52,000 trade visitors from 123 countries). ProWein also continues to become a more global event: this year the visitors came from 126 nations and every second visitor was from countries other than Germany. The highest increase from outside Europe was posted by visitors from overseas, mainly from Asia.
Overall, ProWein is continuing to primarily attract decision-makers with high purchasing authority: over 70% of the trade visitors were from top or middle management. The success of the trade fair was also highly rated: every second attendee confirmed that they found new suppliers and two-thirds were able to get useful information on trends and innovations. Almost 96% stated they had completely reached the goals of their trade fair visit. "The figures clearly show that ProWein is the world's most important business platform for the entire sector. This is where the trade fair budgets are spent. And also for the major, prizewinning wine estates ProWein has now become the absolute must-attend event," stated Hans Werner Reinhard, Managing Director of Messe Düsseldorf.
Siobhan Thompson, CEO at Wines of South Africa (WOSA), agreed: "ProWein is the most important trade fair for our South African producers – primarily due to its great global relevance. ProWein gives us the opportunity to come into contact with all key contacts from throughout the world. This was also confirmed again this year."
"ProWein has once again shown that it is the world's leading wine trade fair. Especially praised was the quality of the national and international trade visitors," added Monika Reule, Managing Director of the German Wine Institute (DWI).
Ancillary Program
As in the past, a diverse ancillary program supported the ProWein exhibits. Over 300 events took place at the exhibitors' stands or at the central ProWein Forum. Other tasting opportunities were offered in the Champagne Lounge and at the MUNDUS VINI selection. The second edition of the
"TOP RESULTS FOR PROWEIN 2016" – page 3
"same but different" special show presented innovative projects for wine production and marketing. In the FIZZZ Lounge, light Shim Cocktails were mixed and presented as new trend drinks. The trade visitors also gave these supporting events high ratings.
ProWein goes City
In the evenings after the trade fair, the ProWein goes City initiative in and around Düsseldorf attracted visitors with activities ranging from special wine menus and cooking classes to bottle parties and art exhibitions.
ProWein Worldwide
Following ProWein 2016 in Düsseldorf will be the premiere of ProWine Asia from April 12 – 15, 2016 in Singapore. The fourth edition ProWine China will return to Shanghai from November 7 – 9, 2016.