Very generous and kind of the legendary Bartholomew Broadbent to come downtown to City Winery before traveling home to give a brilliant presentation of both Madeira and Port to an audience of Advanced and Certified sommeliers hungry for knowledge — and eager to master all aspects of these fortified wines.
Mr. Broadbent was so witty and cleaver – just an amazing speaker with a mind that can reach far back into time and pull out incredible anecdotes about his long journey in the wine industry.
For example, he personally witnessed the "change" from Port being considered an "old man's drink" in the late seventies/early eighties, to a beverage enjoyed by the San Francisco Spinster Club in the 90's, comprised at the time according to Mr. Broadbent of women 21 – 32 years of age.
That was one huge change for him in terms of the first time he saw Port's potential to become a more fashionable drink for women.
But then – the turn of Port in America!
This time the culprit was rising alcohol level in red table wine, especially Napa Cabernet Sauvignon with 15% abs.
If I understood him correctly, high alcohol had a massive negative effect on sales of Port wine by the glass. When a couple might share a bottle of 12.5 abv wine and have room for that glass of Port at the end of the meal, the higher alcohol red wine enjoyed during the meal left little room for a finishing a fortified wine with even more alcohol.
Of course this is not so much of an issue in a city like New York with public transportation, but it is an interesting thought about how guests and consumers in general must allocate the alcohol levels of what wines they will drink during dinner and after.
As the Master Class was comprised of sommeliers, everyone wanted to know how to serve Madeira by the glass. Suggestions ranged from caramelized scallops to duck.
Yet why not pitch the drier styles (Sercial, Verdelho) by the glass before dinner, and even use the sweeter styles in the fabulous cocktails whose recipes you can find online.
Mr. Broadbent had such a fabulous sense of humor it's impossible to relay the dry wit of his many recollections, but one of my favorites revolves around Julia Child demanding bananas at the last minute for a Madeira tasting at an Aspen Food and Wine Festival.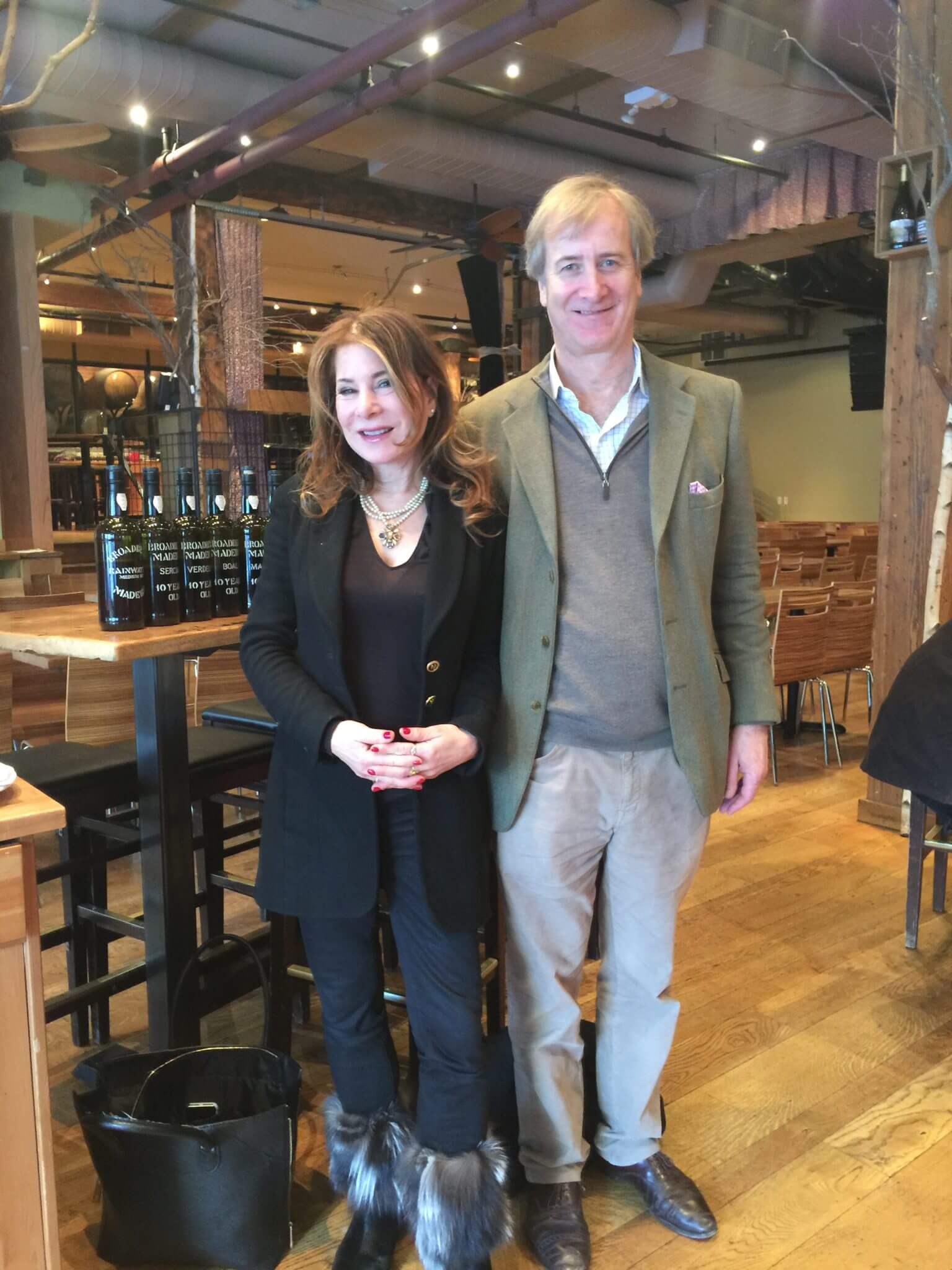 I knew Julia and worked with her in Boston with the American Institute of Wine and Food (founded by herself and Robert Mondavi). Though I was not at that event, I thought it was funny that Mr. Broadbent and his team scrambled to find the bananas outside the venue, but when Julia was asked "why" bananas were a good pairing, she had no answer. I might think it could be roasted or sautéed bananas – that sounds delicious!
This was such a fabulous presentation of wines (yes! Rainwater, Sercial, Verdelho, Boal, Malmsey, and the 1999 and 1996 Colheita) along with the corresponding Port (Reserve Ruby, Late Bottled Vintage, 2011 Port, 20 year Tawny) that we all had a great experience.