It's always a pleasure to see the "face" behind the wine, especially if the creator of the wine happens to be as vivacious as Mathilde Chapoutier.
The wine in question is the newly launched Côtes de Provence Grand Ferrage Rosé, a refreshing dry wine with the kind of crisp dry finish that pairs well with a variety of dishes — salmon, roast chicken, pasta – typical cuisine of summer, though the new trend is to have Rosé wine all year long.
Like the attractive rose pink color of her wine, Mathilde is very pretty, but deceptively strong … she spent her childhood and school years in Tain l'Hermitage and her summers in the heart of Banyuls. At a young age she began exploring the sport of shooting and by age 15 had earned a spot on the French team. She won numerous national championships and competed abroad. After contemplating a professional career in shooting, she turned her sights to studies, first in international negotiation and conflict management, in Champagne, followed by three years in China focused on economics and finance. While in China she also learned Mandarin and met with importers and restaurateurs throughout Asia to represent the Chapoutier winery.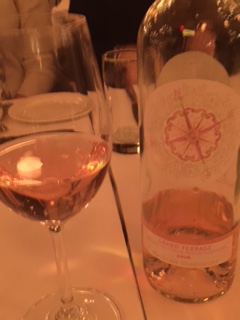 Mathilde is an amazing person — not just because of her fun sense of humor, good nature, and very French charm and beauty, but because she is also hardworking and enormously talented. She designed the label of the bottle herself, a summation of the "feeling" that Rosé wine gives her.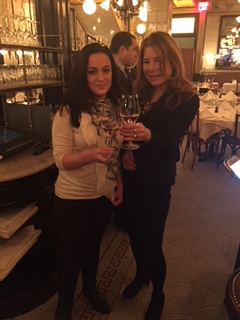 What makes Côtes de Provence Grand Ferrage Rosé a step above other Provence wines for me is the slight tannic edge of the wine, rendering it a great wine to enjoy with food and not just sip by the pool.
It was great to have met her and looking forward to experiencing more of her wines in the future.