As I write this, ProWein 2017 is just finishing up. It is my fifth year, and the organization of this event has always been fabulous.
This year – as every year – I caught up with producers I had visited in their home regions. The Madeira team was there in full force, with some of their best wines. This classic region is now enjoying a resurgence world wide – especially in the USA, UK, and Japan. It was great to see Humberto Jardim, the dashing CEO of Henriques and Henriques who I interviewed on my last trip to Madeira.
And then there was the lovely Claudia Del Duca of Podere Marcampo, pretty much a father and daughter team in Volterra I was lucky enough to visit on a trip to Tuscany.
And of course there was the dynamic Mathilde Chapoutier, whom I met at a dinner earlier this year to announce her Côtes de Provence Grand Ferrage Rosé.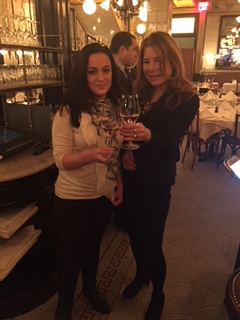 Of course, what you really hear is in the "hallways" … or in other words, the "vibe" that is around the room. Personal observations suggested people had a key agenda in advance. So even though the fair is three days only, much of it might have been orchestrated in advance and solidified in person.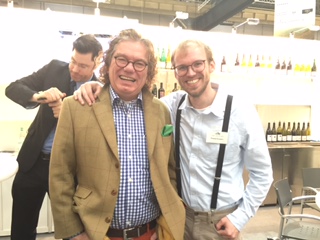 From a journalistic point of view, it was great to have both personal interaction with producers at their stands, and also be able to taste "a region" in one of the free tasting areas. So, for example, I could taste the key varietals in S. Africa in one area then move on to individual producers. It was also great to taste the Mundus Vini wines and the Champagne in the Fizzz Lounge.
Burgundy wine was well represented by many producers including Anne Parent and Jeanne-Marie Du Champs of Domaines Et Saveurs.
***
A total of 50% of the exhibitors were from Italy (1,600) and France (1,500), followed by Germany (1,000), the New World (600), Austria, Spain and Portugal. In focus were the new wines from all relevant winegrowing regions complemented by 300 spirits specialties. Though I wasn't able to attend, a famous exhibitor was Sting with his Il Palagio winery from Tuscany.
The ProWein organizers were pleased by the high number of active decision-makers – a point repeated by many of the producers I met with.
The exhibitors' comprehensive ranges were supplemented by special focal points such as the Champagne Lounge, the Organic World with organic wines, the Tasting Area by Mundus Vini and the fizzz Lounge. At the "same but different" Jancis Robinson also attended to make a presentation of her personal ProWein favorites.
The next ProWein will be held in Düsseldorf, Germany from March 18 – 20 2018. ProWine Asia will take place in Hong Kong from April 8 – 11, 2017, followed by ProWine China in Shanghai from November 14 – 16, 2017. The 2019 dates for ProWein have also already been released: March 17 – 19.