It was so much fun catching up with Tommaso Cortonesi of La Mannella in Montalcino at the hot new restaurant Blu on Park. I've had the pleasure of meeting Tommaso before and like the quality of his wine Tommaso just gets more polished as the years go by.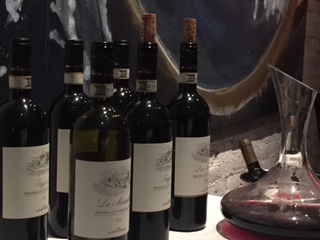 It's interesting that the dinner was held at Blu, as Brunello is an excellent pairing with steak. And though La Mannella is quite traditional in terms of style, Blu is housed in a renovated grand and glamorous 1920s-era brownstone where the talented Chef Russell Rosenberg runs the kitchen.
The evening kicked off with the Cerou Ronco Superiore Pinot Grigio DOC from Collio – one of the finest regions for white wines – and continued on with the La Mannella 2014 Rosso di Montalcino DOCG. Many people assume Rosso is a wine to drink while waiting for their Brunello wine to mature, but in the hands of the Cortonesi family this is a major wine in itself with finely focused ripe fruit and structured tannins.
The Brunello di Montalcino DOCG 2012 had very concentrated fruit, lively acidity, and structured tannins – a wine to easily drink now in its youthful state yet can clearly reward those with patience to wait for more bottle age. The grapes come from the heart of Montalcino where the north side has rocky clay soil, and the south side has sandy soil with good drainage. All the grapes are selected by hand and macerated for 25 days in a mix of stainless steel and Slovenian oak, then it continues its aging in Slovenian oak.
The next step up on the quality ladder is the Brunello di Montalcino from the I Poggiarelli single vineyard on the southeast side of the city where the soil is sandy and rocky. The grapes are carefully selected with the same initial fermentation process, but the difference is that the wine spends 12 months in 5 hl French oak tonneaux before transferred to large Slovenian oak for 24 months.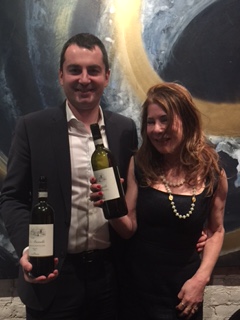 The icing on the cake was the Brunello di Montalcino Riserva 2010, which is only made in the best vintages. It comes from the best vineyards and after it is fermented for 25 days in Slovenian oak vats it spends 48 months in large Slovenian oak casks.
One of the more exciting events of the evening was experiencing the passion of Tommaso describe his vineyards and his future plans. It wasn't his words as much as it was his very clear excitement about how lucky he felt to be in the position of having his family's excellent vineyards to work with and how he wants to take the winery into the future and into all the export markets. I look forward to the success of this vintage and others in the future.