Karine Barbier, Public Relations manager, is a most gracious host as she welcomes us to Chateau Lascombes, a lavish Second Growth estate.
Though the estate existed for centuries its modern era began in 1952 when it was  purchased by a group of investors headed by Alexis Lichine. An enormous amount of time and money was spent bringing both the estate and the winery up to modern standards.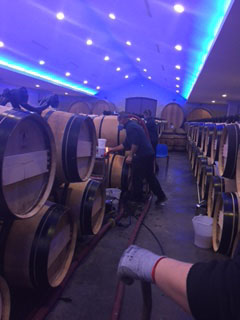 Though the estate is as glamorous as you would expect, the cellar is totally unexpected and a real treat – illuminated by electric blue lights, the cellar could also double as a high-end nightclub for special events.
During the tasting that followed the tour,  it was clear that wine is the real star.
Vinification takes place in a combination of wood and stainless steel vats, and the Grand Vin is aged in 80% new French oak barrels for 18 months.
Many thanks to Karine and the UGC for a delightful visit.