This year, the Union Des Grand Crus changed the program for journalists, arranging for small groups to make afternoon visits after the En Primeur tasting.
It turned out to be a fabulous idea, as after tasting wine from the various regions in the morning, we had a chance to see the vat rooms, caves, and various Chateaux in the afternoon.
The first visit was at Chateau Soutard in Saint Emlion.
Welcoming us to the Chateau was the energetic Caroline Rihouet, Brand Manager.
Though Caroline was the "human face" of the welcome, it's really the imposing Chateau itself that does the welcoming from almost a mile away.
The history of Château Soutard can be traced back to 1513, when it was a farm and a mill. Eventually it became a winery and was the first to plant vines in rows. During the 18th century it became one the largest and most regal chateaux in all of Saint Emilion.
The Chateau was bought in 2006 from the La Mondiale insurance company for over 35 thousand Euros, who put a lot of energy, creativity, and money to refurbish the Chateau, the Chai, and focus on improving the vineyard.
As we met in the very modern, nicely stocked gift shop, Caroline explained that the model for the Chateau's gift shop – as well as its new focus on winery tourism – was California's Napa Valley.
The Chateau has now been restored to its glistening18th century glory, and the Chai has decided 20th century touches such as its own room for malolactic fermentation, many other improvements, and an expansive glass elevator that descends down to the tasting room.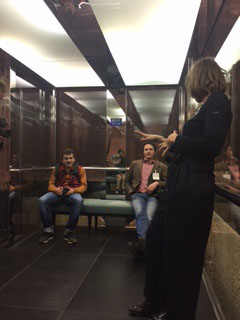 The tasting room looks like a futuristic James Bond film, yet had large decorative rocks to remind visitors that everything in wine comes from the soil.
In addition to the Grand Vin from Chateau Soutard we tasted the second wine, Les Jardins de Soutard, and the other wines owned by La Mondiale La Larmande and Grand Faurie La Rose. All were incredibly balanced with rich concentrated fruit, balancing acidity, moderate acidity, and a long finish.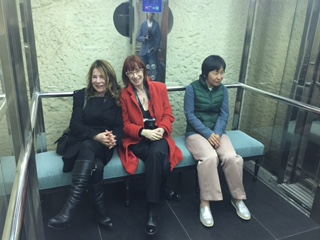 Very appreciative of Caroline and the UGC to provide this special experience for us.