What a fabulous experience today with a dynamic new force in the Italian wine trade. His name is Elia Pellegrini. He is the sharp-minded ambassador of his family's Aia Vecchia wine business, and very active in terms of determining the style of the wines his estate will produce as well as covering the various markets.
Elia's great-grandfather was the visionary who bought the land in and around Maremma, and the family mostly sold the grapes until recently. Today, the entire family is involved with the Aia Vecchia brand, with Elia crediting his grandfather with further developing the wine estate and his parents and uncle really bringing it to international acclaim.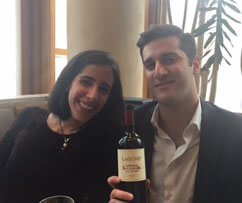 Today four wines were tasted — the flagship is the Sor Ugo Bolgheri Rosso Superiore DOC, which is aged in 100% new French Allier oak barrels for at least 18 months and then 12 months in barrel.  It was absolutely delicious but is a wine that deserves to be aged for at least two more years in bottle and enjoyed with a fabulous steak dinner. This can easily can rival a top Bordeaux as it is a blend of 50% Cabernet Sauvignon  with the rest Merlot and the seasoning grapes of Cabernet Franc and Petit Verdot.
Ready to drink this moment is the Lagone Toscano Rosso IGT, which is 60% Merlot and 30% Cabernet Sauvignon (10% Cabernet Franc) which is aged in various types of oak barrels for 12 months than six months in  bottle.  Incredible quality.
The two lighter style wines was the 95% white Vermentino and 5% Viognier that had a very memorable rich mineral quality, very dry and refreshing, and the Solidio Rosato IGT made from 90% Sangiovese and 10% Merlot — a rosé wine that pairs well with salmon and duck just like a red wine.
It was great meeting Elia, who though young had his promising soccer career cut short by an injury. He enjoys being the ambassador to his family's wine, making key marketing decisions, and traveling around the world to promote the excellent quality and price-to-value of his family's wines.