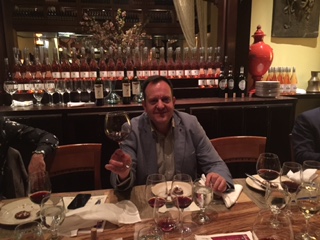 Great to see Yiannis Karakasis MW again last night at a dinner featuring the wines of Dougos held at the Kellari restaurant in NY.
Four wines were served to match four delicious courses … the evening kicked off with the unoaked Dougos Sauvignon Blanc, fresh and crisp, and was followed by a delicious Assyrtiko matured for 6 months in Acacia that respected the delicate flavors of the Assyrtiko.
The red wine, the Methimon 7 (Syrah 40%, Limniona 30%, and the remainder with international grape varities was aged in French and American oak for 18 months. We also tried the Rapsani, roughly a third each of Xinomavro, Krasato, and Stavroto, was aged in French and American oak for a full year.
Then the crowning glory was the Rapsani Old Vines, the same blend as above but from very old vines.
It was a pleasure to see Yiannis again supporting the Greek wine industry, enjoyed the charm and great cuisine of the Kellari restaurant, and of course the generosity of Mr. Dougos for bringing his wine to NYC.