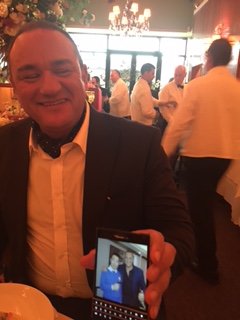 Fascinating lunch with M. Claude Boudamani, Manager Director of Chateau LaGrezette in Cahors, a historic region in France known for the (original) Malbec grape as well as its beautiful castles from the Middle Mges.
The history of Chateau La Grezette goes back to the 12th century, when the first records of the wine harvest appeared. Successive families owned the château and enabled the domaine to survive over the centuries.
In 1980, entrepreneur M. Alain Dominique Perrin, responsible for the renaissance and international development of Cartier International,  fell in love with the property and put all his energy into resurrecting both the vineyards and the chateau into its former glory.
With his team of experts and analysis from digging soil pits, Mr. Perrin realized that the property has three key terroirs and quickly set about matching the best grape varietal to the terroir which for all intents and purposes is "Grand Cru" status.
Of particular interest during the tasting was the Paragon Massaut Malbec 2014 from the exceptional Clos Marguerite Vineyard, perfectly located in terms of microclimate and soil orientation and planted to very low yields. Very careful selection in the vineyard and winery, careful handling, crushed, and a week long cold maceration before the alcoholic fermentation to extract color and flavor from the skins. Then after fermentation the wine is aged in new French oak barrels for 20 months. The wine is a near black color, with aromas of red and black fruits, licorice notes, and a full body.
A counterpart to this masculine style of wine is the very feminine LaGrezette Le Pigeonnier Viognier 2014, a very aromatic white wine with its luscious scent of peach and vanilla, a fuller body with vibrant acidity despite the ripe fruit that can pair well with lobster and scallops.
I was also able to try the Chateau LaGrezette Malbec, the flagship wine of the estate, with grapes sourced from 30 year old estate vines on clay/limestone second and third terraces near the Lot River with very low yields and maturation in one and two year old French barrels. Very intense wine with well integrated oak, full body, and great aging potential.
What is also of interest to this wine is that the label changes each year with a new cutting edge artist or photographer expressing his/her interpretation of the vintage.
We also were able to preview a powerful new Malbec named "Mon Vin," created in secrecy for three years with consultant Michel Rolland, as a surprise for M. Perrin. The wine's essence is intended to capture Mr. Perrin's powerful intensity and creative, artistic spirit. Sourced from 35-year-old estate vines, "Mon Vin" aged for 30 months in new French oak barrels and was truly spectacular.
To enjoy with dessert was a late harvest Viognier that matched perfectly with chocolate.
Very appreciative of the efforts of M. Perrin in discovering and making it his passion to use all his resources to revive this property — both the ancient castle and the vineyards – and also the delightful and charismatic M. Claude Boudamani, a born racanteur who tells the story of LaGrezette brilliantly.
M. Boudamani was previously winemaker and vice president at Chateau Haut Brion. He also worked with Francois Lurton in Argentina and Chile as vice president marketing and sales.
What was exciting about this lunch – beyond the delicious wines of LaGrezette and the charm of M. Boudamani – was the talk of China, a big market along with the USA for LaGrazette, and the new way of International business.
M. Boudamani has something colorful and original to say on any subject. For example, when the conversation turned to pairing food with wine, M. Boudamani was quick to point out it is equally important to pair the wine with people — and jokingly he considered putting a warning to that effect on the back label.
Another joke was about people who might find a wine "closed" — Mr. Boudamani quipped "maybe the wine was closed to the person."
There was also talk of wine's ability to bring back and/or evoke memories, and recent studies that have been conducted matching wine to music.
All in all, a great wine and people matching experience.