This past June, I was very excited to be able to judge wine at the 17th Citadelle du Vin international wine competition. Though I've judged wine for many other organizations such as London's International Wine Challenge and the International Wine and Spirits competition, this was the first time I'd be judging in France.
The Citadelles du Vin is currently organized by the Concours Des Vins (CDV) – a non-profit association located at Bourg, near Bordeaux (France). Its mission is to promote the diversity and quality of fine wines from throughout the world, and towards this end, the judges were wine experts from around the world.
The first official morning of the judging, we were transported by bus from our delightful Hotel Mercure Cite Mondiale hotel to the Bourg tasting. I already knew a handful of fellow judges, since a small group of us were members of the International Federation of Wine and Spirits Journalists and Writers (FIJEV).
After a few minutes of saying hello to old Friends, we took our places at our assigned table. The organizers tried to make each table as international as possible – each table was like a mini United Nations.
Each table also had a senior judge who would cast his or her own vote, but was also charged with making sure that the judges around the table were making accurate assessments about the wine.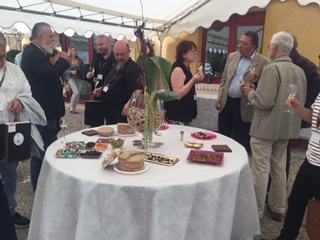 The judging experience was quite formal and somewhat solemn. Neatly dressed sommeliers would pour each flight of wine with the utmost care. Yet what impressed me the most was the technology involved. Instead of writing down ratings on paper, we would enter our scores into a machine. Though we could only see our own scores, the senior judge could see how all of the judges at the panel voted on the wine.
The formality and concentration involved with the judging sessions was lightened by the fun activities the organizers arranged for the judges, including some very delicious convivial lunches outdoors in the gorgeous Bordeaux sunshine, a magnificent gourmet cruise on the Estuary, a formal dinner at the hotel restaurant, and a delightful visit to the new Cite du Vin museum in Bordeaux where we had a private tour and a drink on the roof-top.
I'm very proud to be a member of FIJEV and through them, to have had the opportunity to be a part of the 17th annual Citadelle du Vin. What I treasured most about this wine competition was the fact it was so international, its judges as well as the wines that were submitted. When consumers visit a shop and see a medal from the Citadelles Du Vin on the label, it's a sign of quality one can trust.