Great meeting Ben Glaetzer from the Barossa Valley today. At the Roxy hotel, I recognized him immediately because at 11am he was the only person with four bottles of wine and a few glasses on the table.
You might recognize the unique labels of Ben's wines, which are taken from ancient Egypt. What I never noticed before is that that the bottle has Ben's name on it, the way books have the "byline" of the author on the front cover. I haven't seen it before and though my first thought that it was highly unusual, my second thought was why not? Why wouldn't the maker of a wine take the same sort of credit as the author of a book or article.
What I learned is that the first Glaetzers settled in the Barossa Valley in 1888 after emigrating from Brandenburg, Germany. Over a century later, winemaking patriarch Colin Glaetzer established Glaetzer Wines, a boutique family-owned winery producing premium Barossa Valley wines. Today Colin's son, Ben, carries on the winemaking traditions of Glaetzer Wines.
The Glaetzer mission is to focus on the production of small-volume, super premium Barossa Valley wines. The family holds a firm belief that the wines are made in the vineyard – a combination of terroir and Australian vineyard site knowledge. The Barossa Valley, one of the most famous regions in South Australia, has a deep history dating back to 1847 with a distinctive, and profound, Silesian (German) influence.
All fruit for the Glaetzer wines is grown in the Ebenezer district, a small sub-region of the northern Barossa Valley. The ancient dry-grown vineyards in the renowned Ebenezer district are an important part of Australia's winemaking heritage and a living link to traditional Barossa viticulture.
Ben is a tall, very friendly individual, with the good sense of humor one associates with Australian men in general. He is the brand ambassador of his own brand, and often on the road when he's not actively making the wine. We tried four of his wines, with one of them (the 2015 Anaperenna Shiraz Cabernet Sauvignon) I tasted earlier in the week at the Great Australian Blend event, which had won that competition a few times.
Of course, of the four wines below my favorite was the Amon-Ra, yet the Bishop Shiraz and Wallace Shiraz-Grenache were fabulous, especially for the price.
I was able to also meet Ben's partner in his Heartland brand, Nick Keukenmeester. Heartland is designed to be a high end but affordable wine appropriate to serve by the glass in restaurants – can't wait to try it here in New York!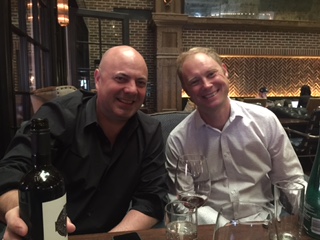 2015 Amon-Ra Shiraz (Barossa Valley) – SRP $119.99
2015 Anaperenna Shiraz Cabernet Sauvignon (Barossa Valley) – SRP $85.99
2015 Bishop Shiraz (Barossa Valley) – SRP $37.99
2015 Wallace Shiraz-Grenache (Barossa Valley) – SRP $27.99