It was a pleasure to meet Ms. Ardic Gursel, founder of VinKara wines of Turkey last night at a private dinner showcasing her delicious wines.
Ardic had spent the day speaking to press and trade all day at the Winebow Tasting in New York city, and over dinner she revealed that there was quite a bit of interest in Turkish wines from stores and restaurants here in New York.
Turkish wines are increasingly popular in the USA — in 2012 I visited the region with several other journalists on a trip arranged by what was then known as the "European Wine Bloggers."  The most important wine journalists in the world, including Christy Canterbury Master of Wine, took part in this fabulous visit, which introduced journalists from around the world to the Turkish culture and its wines.
The great thing about most producers in Turkey like Ardic is that they are not trying to produce international varieties like Cabernet Sauvignon or Chardonnay. They are sticking to their national varieties, and last night during dinner we tasted an EXCELLENT sparkling wine, along with some reds and some whites, with oak and without.
Born in Ankara, Turkey, Ardic Gursel developed a passion for wine while studying abroad in world-class wine regions.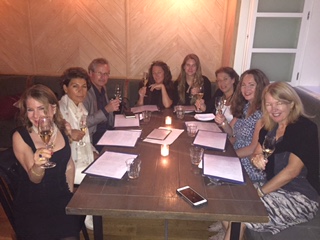 During dinner, she explained that as a Business Administration student at the Schiller International University with locations in Heidelberg and Strasbourg she immersed herself in the food and wine cultures of Germany and France.
After completing her Business Administration degree, Ardic attended Cornell University's School of Hotel Administration then finished with a Master of Management in Hospitality. Afterwards, she returned  to Turkey to join her siblings in founding the Marmara Group of Hotels and Residences.  Overseeing the Marmara Group's property expansion, Ardic was directly responsible for developing and opening the Marmara Pera, Marmara Antalya, Marmar Sisli and Marmara Bodrum.  Ardic also managed all operations at the world-renowned Marmara hotels in Istanbul: Marmara Taksim and Marmera Pera.
When government regulations eased in the early 2000s, Ardic persuaded her family to establish a winery in Central Anatolia, one-hour southwest of Ankara, on land her family owned near the small medieval town of Kalecik. She set about building a winery to produce quality wine from the local 'Kalecik Karasi' red grape varietal and the 'Narince' white grape varietal.
The winemaker here is Marco Monchiero, an Italian winemaker and consultant from Alba, Piedmont, extremely experienced in the production of indigenous grapes in Italy and Bulgaria.
Narince is a white grape produced in an oaked and un-oaked style. It tastes of peach and lemon, and pairs well with a number of dishes, especially seafood. The oaked style was a bit more complex and suitable with food.
The red 2011 Bogazkere Reserve is aged 30 months in French Burgundy barrels and was very rich and intense, with licorice and leather aromas and flavors. The 2014 red Kalecik Karasi is available in an oaked and unoaked version. The unoaked wine spends year in tank before bottling. It is light and fresh, perfect with pasta. The oaked 2014 Reserve Kalecik Karasi 2014 is aged 14 months in new French oak, then six more months in bottle. It has delicious soft tannins and a long finish.
Then there is dry red 2013 wine from the Okuzgozu grape, very full bodied with bright acidity from its high altitude vineyard. Very refreshing.
It was great to meet Ardic, and taste such well produced examples of Turkish wine.