Very interesting tasting and lunch today with Dalla Terra Winery Direct founder Brian Larky, a very dynamic individual who self-built his company from his youth spent working the vineyards of Italy.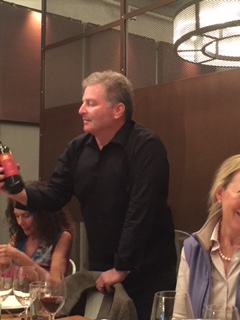 The Dalla Terra portfolio is compiled of producers of very high quality Italian wines.  During the tasting of an expansive amount of white and red wines, I thought the quality for price was fabulous.
Yet as good as the wines were, it was great to have a private view of Brian's values during his heartfelt talk during lunch.
In great detail, he talked about his youth, how he learned the Italian language in the vineyards, and how he saw that he could fulfill a niche in the international marketplace by focusing on family owned wineries on a very exclusive basis.
During the tasting before lunch, a great representation of classic regions of both white and red wines, with some top notch family names such as Marco Felluga among them.