You must have heard about Amphora wines…
These wines, aged in large clay vessels, are the newest "old" trend in winemaking.
Only the countries of Georgia and Portugal have used them for centuries, and now they are making a return in a big way.
Sao Miguel has 11 large Amphora used to make wine from the traditional varietal blend of Tricadera, Alicante Bouche, and Argonnez (Tempranillo in English).
It's difficult to explain the specific character that amphora gives to a wine, but perhaps the best way to describe it is to say that it gives wine a rounded character and gentle micro-oxygenation, like old oak, without any oak aromas and flavors (vanilla, spice, or toast).
Yet I must describe what it's like to see an Amphora for the first time.
Here we journalists are, exiting a modern van, our futuristic iPhones in hand, and then in a moment experiencing the sight of ten large, ancient amphora beautifully positioned in front of the vineyard.
Some might say making a wine fermented and aged in Amphora is a more of a marketing ploy, than the key to a superior wine. It may be a bit of both, and many would agree that often the traditional ways are best.
To make Amphora wine, single varietal grapes such as the traditional Tricadera, Alicante Bouchet, and Argonnez are put inside individual amphora. After aging, the wines are blended together and bottled.
Paulo Pecas, one of the winery's key winemakers told me that an Amphora can last 300 years or more. Repairs are possible but expensive. When they do crack, the reason is because of a particular violent fermentation or that the clay just gets old and brittle. In some cases, they can put a new layer of clay around it, and in others they put what I can only describe as copper "brackets" or large "staples" around it to hold the crack in place.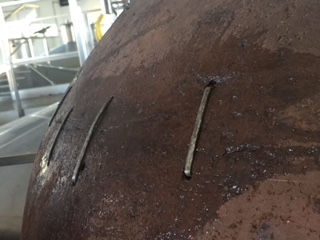 The other curious wine to come from Sao Michele was an "orange wine" made in a deliberately oxidated style that has been making headlines in wine magazines as well as Master of Wine exams.
As you can probably deduce from the description, the wine is indeed an orange color. The color is orange because the wine is fermented and aged for a bit with skin contact, like a red wine. In this case the natural Portuguese varietal was Antao Vaz.
Despite it's pretty orange color that hinted at more alcohol and more intense tannins, it was only 12.5% abv and the wine had more texture than a tannic feel.
Paulo described it as a gastronomic wine. I attribute his description to the fact that the wine had texture you usually do not find in a white wine. It would be a perfect pairing with sautéed scallops.
All the wines were of excellent quality, a tribute to the careful winemaking of this house. I was amazed to learn that the wines are exported to 37 foreign markets, and produce five million bottles a year.