Cooking classes are all the rage in Italy, and the Tenuta Valleselle winery in Bardolino offers classes in cooking along with tastings of their range of exquisite wines.
Greeting us as we arrived was the dapper Luca Ventrelli, the export manager of the family's 5 million wine bottle production.
After a short visit to the vineyard where they grow Corvina grapes, we don our aprons for the cooking class.  "Mandatory," of course, is a glass of Bardolino Chiaretta here called Campo Della Rose.
Today our cooking leader was an energetic good looking man with blond hair and interesting jewelry who showed us the surprisingly hard "basics" of making a relatively simple pasta dish!
We took command of our individual standing tables, already set with the ingredients we would need for the dish: two eggs, flour, salt, pepper, and a variety of vegetables including onions.  So off we went, sautéing the vegetables and then letting them simmer.
While kitchen helpers watched our pots, we went to the reception area to go through a tasting of wine that including the estate's Corvina, Bardolino, Valpolicella Ripossa, and of couse the shinning star Amarone.
To accompany all these wines were cheese and salumi.
Then we marched back to our kitchen posts, to finish the pasta lesson. It took a surprising amount of energy. The first step was adding the eggs to the flour and then molding this into some sort of shape. Next, we used a modern machine to form it first into very wide, very fine strips, and then from there feed it once again into the machine and get tagliatelle.
Our work done, there was nothing to do except chat until we were called upstairs for lunch, our tagliatelle having magically appeared along with new wine.
At the end of the day what I remembered most was what fun cooking was, and also how exhausting.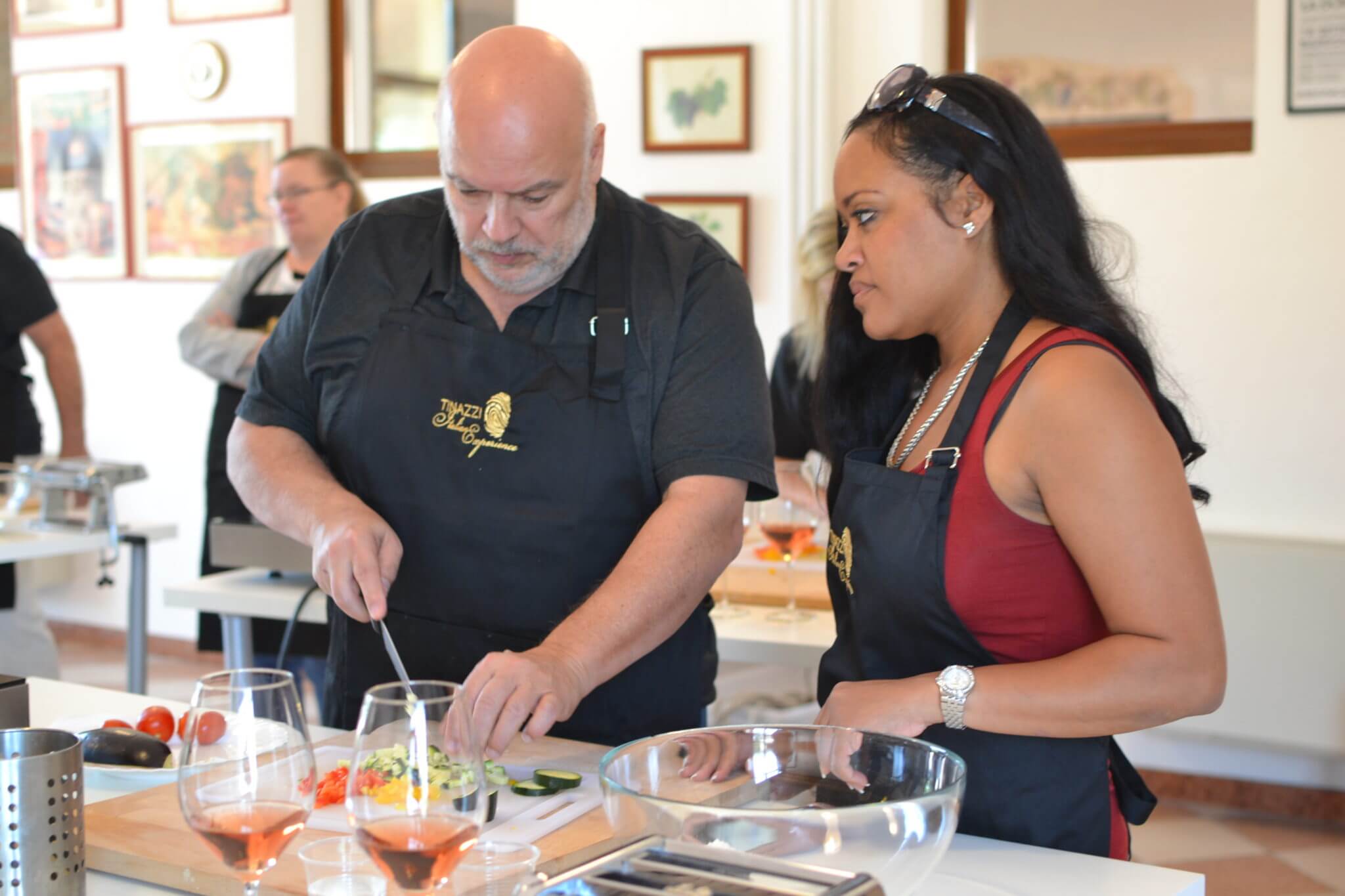 The vegetable chopping was fairly simple, but it was unbelievable how much time it took to 1) mold the dough and eggs together 2) pound it into a tight ball 3) feed it into the machine over and over and over 4) feed it through the machine into a different entry point where it turned raw dough into interesting looking noodles.
Also of key importance was export director Luca and his introduction of the wine and the estate. I was able to take the opportunity to compare Ripasso de Valpolicella  and Amarone della Valpolicella side by side together, something I try to do at every tasting in New York. Amarone of course is the real deal, made from 100% dried grapes and aged for at least three years in French oak. The alcohol can range from 15.5% abv to 17.5% abv and even more. It is very expensive for this reason. Yet the Ripasso (the name means that the plain basic Valpolicella, representing grapes grown in the valley) was passed through the "cake" or residual solids of the Amarone skins, thus undergoing a second fermentation giving it more alcohol, body, and nuances of flavor.
The excellent Corvina and Bardolina were splendid examples, very rich and full bodied.
All in all it was an excellent visit, and quite bit of fun.