Our generous Zeni family hosted us for our final night of our visit to Bardolino at the Bardolino Wine Museum, which they own and operate.
The museum is filled with ancient winemaking tools – well, at least tools that look ancient to us in our modern world. You will also find a lot of old photographs showing the many wine festivals the region hosted in the 1920s.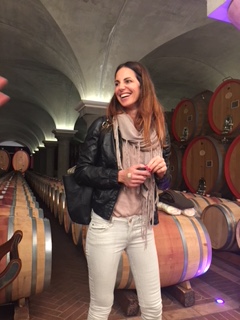 The Fifth generation of the Zeni family is now in charge of operations, and they have recently introduced a fantastic new room where wine enthusiasts (or anyone, really) can test their own power to identify specific odors unique to wine. The idea is to take a blank chalkboard and try to identify what you smell, then check your answers on the other side of the room.
After walking around the museum and testing ourselves on our powers of aroma identification, the sparkling Chiaretto was popped and we enjoyed a toast to our new friends – and our hosts – before an excellent dinner.