Now you've probably heard of "speed dating" – yet have you ever heard of speed tasting?
It's actually a very clever idea and an excellent way to get to know a number of younger (or smaller sized in terms of production) wine producers very quickly.
I actually didn't know what to expect as our bus gently rolled onto the rocky soil of the ancient looking Villa Calicantus winery. This stone structure looked magical against the setting sun and set the tone for the exciting evening we were to have that night.
The winemakers welcomed us warmly as we stepped into the large room (imagine the central room of an old castle).
The producers soon took their seats at individual tables, armed with some glasses and their wines. Every ten minutes or so, journalists would change seats, taste the wines, and ask the winemaker questions.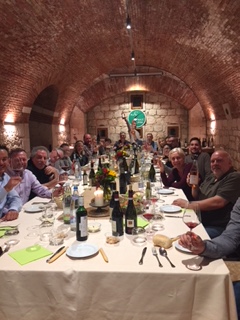 It was a fabulous and refreshing experience. The winemakers all spoke English to varying degrees, and were very international in the sense that like their fellow  winemakers all over the world they were excited about taking a different path as their father or grandfather, or some of them were just starting out in winemaking from another field.
There were trends similar to the majority of the winemakers. Most of them were trying to farm in an organic way. Some of them were certified organic and even biodynamic, while others did not think that a certificate was important. A few producers told me that by being organic they are taking an extraordinary risk, because everything is a natural fermentation and they do not use sulphites.
Virtually all the winemakers were on the same page in the style they wanted to achieve. To a man (they were all men) they wanted to express the terroir of their land, especially in terms of freshness and minerality. And after tasting hundreds of wine from this region on the trip, I really must say that freshness and minerality is the calling card of Bardolino. The wines here, even the reds, do not need oak. The grapes have quite a bit of natural spice and tannin on their own.
After the speed tasting, the producers popped open several bottles of sparkling Chiaretto and we had a little reception before dinner. Over dinner the producers were finally able to relax and enjoy the evening.
Just after dessert, an iPhone found its way into a portable amplifier, and the evening ended with producers and journalists dancing the night away to some classic rock.