A lovely visit and tasting at Domaine Saint Sebastien. Its owner, the dynamic young Mr. Peronne, also owns a lively Collioure restaurant that overlooks the sea is on a busy boulevard.
We meet Mr. Peronne only briefly at the restaurant, as he has another engagement, yet I can imagine that in summer this must be a favorite place to enjoy good wine from Domaine Saint Sebastien and also the fabulous view.
Energetic young sales manager Pierre Girault whisks us away to the gorgeous 17th century farmhouse turned barrel maturation cellar for our tasting. Set against the low hills of Collioure, I can imagine it looks exactly as it did when it was originally built. The farmhouse is also used as an atmospheric tasting room for VIPs.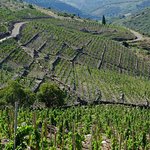 We begin the tasting with some excellent dry white wines which include the 2016 Clos Saint Sebastien, made from the typical Collioure blend of white and grey Grenache with some Vermentino. The second wine is a similar blend, but it had been aged for nine months in 600 litres old oak barrels and given battonage to create a richer mouthfeel.
The red Clos Saint Sebastien Inspiration Marine 2015 is 90% Mourvedre and 10% Grenache Noir. It is incredibly well made and delicious, tasting of crushed rocks, violets, and has iron minerality. It takes its name from the vineyards located from the sea. There is no oak here – just maturation in inox.
It is interesting to compare this to the Clos Saint Sebastien Inspiration Celeste 2015, which takes its name from the vineyards located by the mountains. It is made of Grenache Noir and Carignan and has very structured tannins. It is aged in oak barrels for 9 – 15 months.
A real treat comes our way with the 2016 Grenache Noir, which is jammy with ripe black fruit like the inside of a hard candy. It is a sweet wine with 95 g/L of residual sugar and 16.0% abv.
The Inspiration Hors d'Age (a blend of wine with the youngest 20 years old) is truly and inspiration, tasting of cocoa beans and dried plums and structured tannin from the schist soil. It is a mix of wine blended in large old barrels and small demi johns in the sun.
To top everthing off is the Banyuls Grand Cru, tasted from its cask. It had very rich, concentrated flavors and will be priced at $85.
It was a great visit with some truly stunning wines.