The last visit of the day was at a lovely property called Domaine Serre Romani, founded by the energetic Laurent and Cylia Pratx, who met during their studies as agronomists in Toulouse.
Together they dreamed of a future life in which they would be winemakers, living on the land, tending the grapes, and every day getting up In the morning with a scenic view.
Happily, they have achieved their dream.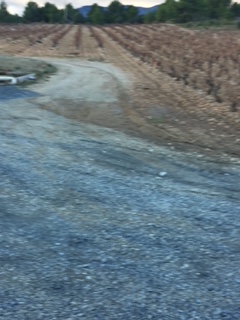 The winery is spotless and filled with very modern equipment, yet small enough for Laurent to handle on his own.
The tasting room is neat, decorated in a style like a West Village New York City boutique, filled with bottles of wine and some gourmet specialty cuisine.
We start the tasting with a white blend of Grenache Gris, Grenache Blanc, and Macabeo. It is quite delicious, and made with obvious tender loving care as it is only the first press of the Grenache Gris, barrel fermented in 500 Litres demi muid.
The next wine is the Sainte Estelle Grenache Noir 2016, which undergoes six weeks of maceration. It is soft and fruity.
Following that is the Serre Romaine Carignan 2016, very strong and powerful, and the le Cathare 2016, a Grenache/Syrah blend.
The delicious sweet Serre Romani Maury 2015 is a favorite, as is the Muscat 2015 Petits Grains.
It was a great visit to a dynamic young pair of winemakers who are already making their mark on the world wine export market.