What a fun visit to Domaine Treloar,  a small, high-quality wine producing estate located in the Village of Trouillas in the Pyrenees-Orientales department of France.
I must say that it was a fun surprise to hear a friendly New Zealand accent warmly greeting me as I arrived. It was the vice of owner Rachel Treloar (of Maori and Cornish ancestry) who lives and works at the domaine with her English husband Jonathan Hesford and their very young children.
Jonathan is a qualified Viticulturist and Oenologist. He graduated top of his class at Lincoln University, New Zealand's premiere wine academy. Interestingly, he worked for two years as the assistant winemaker at Neudorf Vineyards, one of the most highly regarded wineries in New Zealand. One of Neudorf's wines was actually on the Masters of Wine exam, and I am quite familiar with their viticultural goals.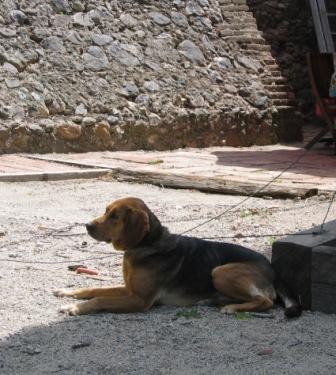 The couple actually lived in Manhattan during 9/11, just a block away from the World Trade Center. The event changed their lives. They lost everything and decided to focus on what mattered in their lives. They decided they wanted a different life for their children, so a desire to own a vineyard was born.
They sell their wine internationally to some of the finest wine shops in the world, such as Cambridge Wine Merchants. Rachel spoke at length about their neighbors who have helped them settle in and adjust to life in the Roussillon.  She also spoke about the way that they also try to help and advise people who want to emulate the life style changes they have made for themselves in the Roussillon..
Rachel now brings out the cleverly named wines for the tastings. They include One Block Grenache 2015, a fragrant wine made from a single block of Grenache.  The Secret 2013 is made from Syrah and Grenache that sees some oak maturation, Tahi 2011 is a tart red wine made from Syrah, Grenache, Mourvedre.  All the varieties are aged separately in oak barrels.  Finally, we try the delicious sweet wine Muscat de Rivesaltes 2014.
It was an excellent tasting of well-crafted wine, and a great introduction to an adventurous couple with vision.