Very nice visit to La Tour Vielle, a winery owned by Vincent Cantié and Christine Campadieu, who both grew up in wine growing families in the area and are passionate about the terroir.  Since purchasing the property in 1981, they modernized their domaine, adding a wine store and cellar.
The couple have twelve hectares of vineyards scattered between Collioure, Banyuls-sur-Mer, and a few other regions on mostly schist soil, with many vineyards overlooking the sea.
On land like this, it is possible for the couple to work in a way known as "La Lutte Raisonee" meaning that though they do not have organic certification, they try to work as naturally as possible. Because the grapevines are constantly exposed to the fierce wind known as "La Tramontane," rot and disease is rarely a problem. For this reason, yields are also naturally low, which results in a more concentrated wine.
The couple grow Grenache (all colors), Carignan, Mourvedre, Syrah, Roussanne and Vermentino, and make white, red, and  rose, and the traditional sweet Vin Doux Naturel.
During the afternoon we tasted many of their wines. The Colloure Blanc "Les Canadelles" is made from Grenache Gris, Grenache Blanc, as well as Macabeo, Vermentino and Roussanne. A percentage of the wine is fermented in oak barrels with batonnage for six months. It was crisp and textured, quite delicious. The Collioure Rouge is a blend of Grenache Noir and its usual blending partners, trodden by foot and aged for 10 to 18 months. You can really taste the intensity of the schist soils in these wines.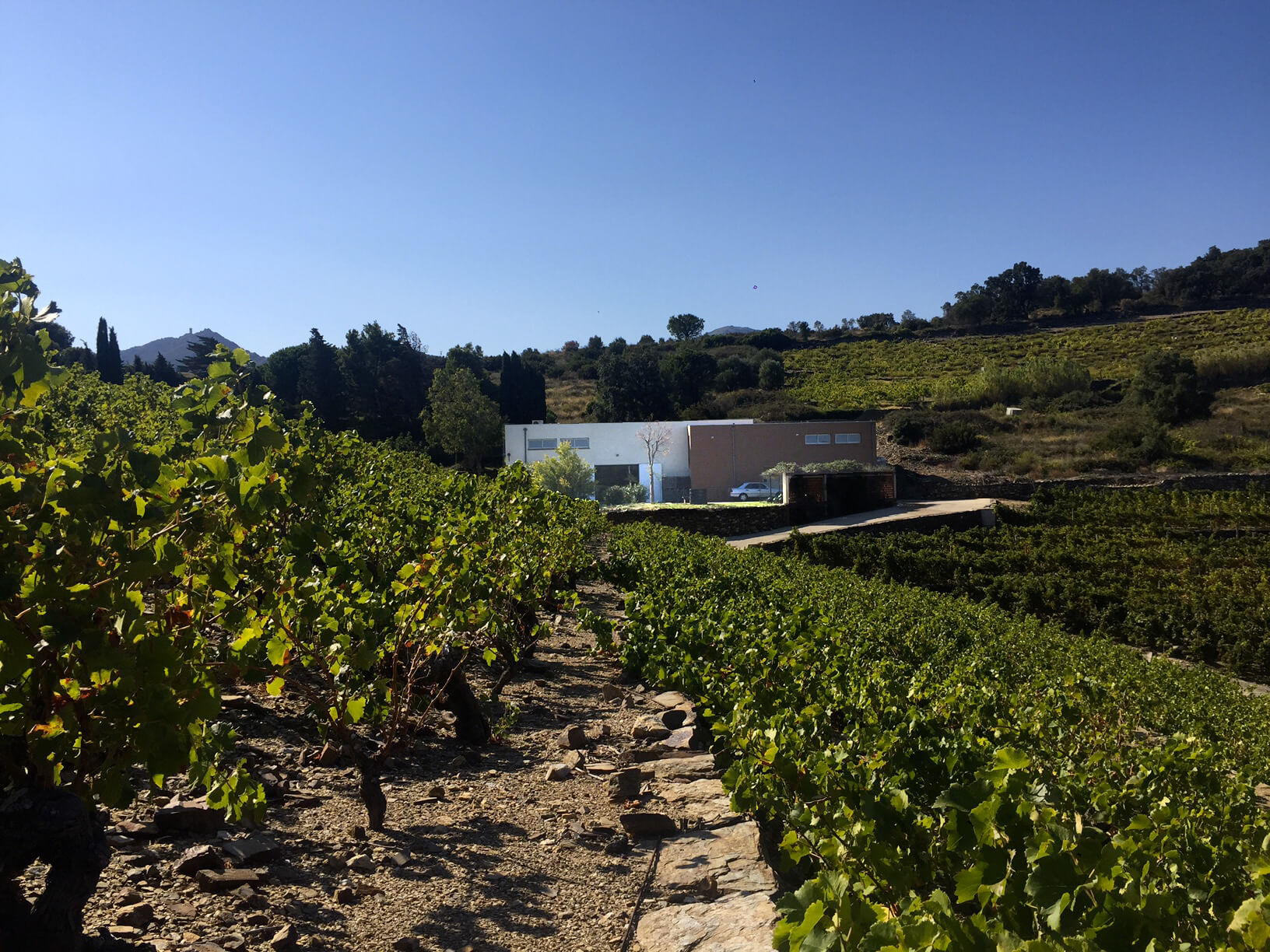 The fortified wines are made in a traditional way and they were all remarkable. The simple Banyuls Blanc Doux is made from grapes pressed directly after harvest, with alcohol added to stop the fermentation so the wine retains its sweetness.
The Vintage Banyuls is a red/purple colored, non-oxidized wine that is bottled within the first year of aging to retain its deep color. Neutral spirit is added during fermentation to reach 16% abv and residual sugar between 90 and 96 g/L.
The Banyuls "Reserve" is made in a similar way, but after fermentation and the addition of neutral spirit, the wine is divided into three portions and put in three separate vessels: foudre, barrel, and large glass jars. The jars are taken out of doors, with the goal being for the sun to create  deliberate oxidative flavors in the wine.
After a year, the wine in the three vessels is blended into one tank for further aging.
One of the more interesting wines is Banyuls "Vin de Meditation, which is made in a solera process with a base wine from 1952. I also relly liked the Vin de Pays de la Cote Vermeille "Memorie D'Autommes." Here grapes are picked late and undergo a long fermentation. The wine iis intentionally left to oxidize over two years in barrel.
It was a great visit to passionate producers who have clearly made sacrifices in order to carry on the traditions or the region.