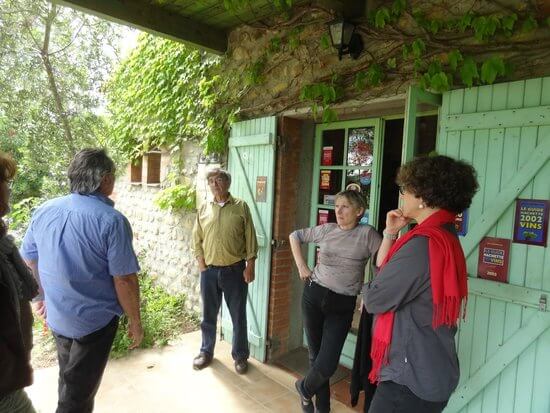 One of the most exciting things about visiting producers in remote regions is the opportunity to have lunch at quaint, intimate restaurants frequented by locals.
In this case, our host at Auberge Nidoleres was the restaurant proprietor Mr. Escudie. He is also the owner/winemaker of Domaine de Nidoleres.  His objective in building the restaurant was to promote his wine.
Mr. Escudie is actually an 8th generation winemaker who farms 6 hectares of vines in a La Lutte Raisonee style.
We start the luncheon with a glass of his delicious white Grenache that has aromatic fennel flavor, and listen as he talks about his wines. Unlike his father, he is interested in farming in a biodynamic fashion. (For example, he prunes when the moon is going down). He is not interested in certification for organics or biodynamics, but the philosophy appeals to him.
The next wine we try is a rosé called  Le Cinsault, named after the grape. It is a fragrant delicious wine with an appealing pink color. We end the meal with a Syrah based red wine (80%, the other grapes equal amounts of Syrah and Carignan)  which is the 2015 Côtes du Roussillon La Pierroune. It is rich and delicious with 13.5% abv and no oak. What a delightful visit to a real traditional farm house style restaurant, with delicious food and wine.