A very exciting visit to Mas Becha, a gorgeous ancient farmhouse with vineyards that had been revitalized by owner Charles Perez. The estate has its original Roman arches from the tenth century – the time of the Templars – and it has been renovated in a way that allows it to keep its low-tech charm.
The soils are very special here, with chalky soil as well as Schist. Mr. Perez's philosophy is to grow vines in specific blocks. He is also keen on maintaining the acidity of the wine and keeping the flavors fresh and vibrant.
We begin the tasting with Blanc des Clottes 2015, a gastronomic wine that is a blend of white Grenache and Vermentino. It has a wonderful salty minerality and tangy acidity that immediately sends the message it is a special wine indeed. You can just imagine this wine being served with some fabulous masterpiece of a dish in a three star Michelin restaurant, which is exactly its purpose.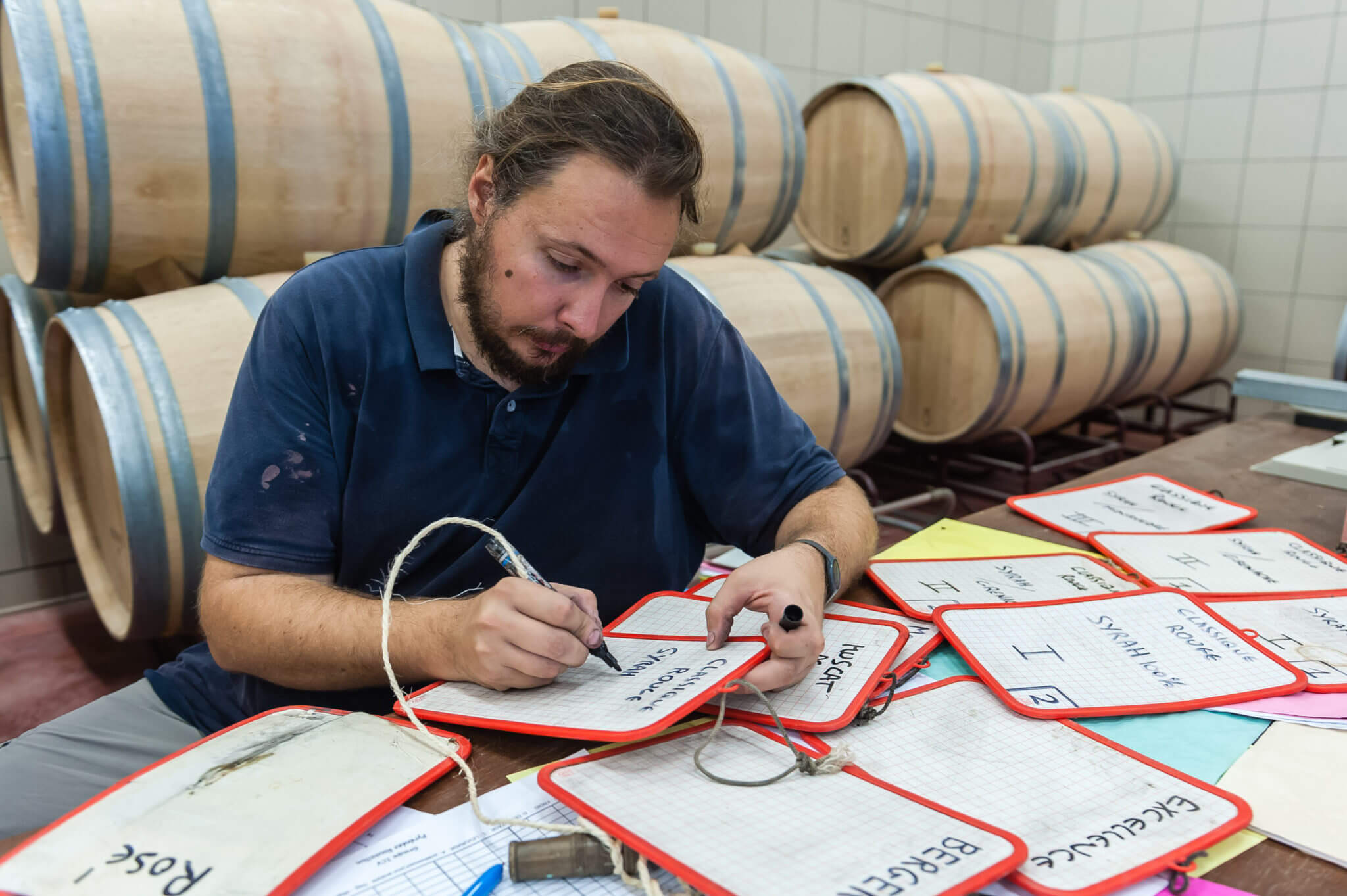 The next wine is Caratx Serrat D'En, a dry rosé wine made from Grenache Noir with tart acidity. It, like the Blanc des Clottes, is a curious wine, meant to enjoy with food and probably discuss over lunch or dinner. Mr. Perez likes to serve it to unsuspecting guests in a black glass, to watch their reaction to the aromas and flavors as it spends 8 months in wood for complexity and tannin. It has aromas and flavors of pomegranate.
Following this is MVD MMXV, a very expensive red wine that sells for over 66 Euros. It is aged in 100% new French oak and made from Mourvedre. It has fine grained tannins and is most elegant.
Camps de Nyils is a very sophisticated wine that is aged 20 months in 100% new French oak with a very long maceration, from low yielding vines. The grapes are taken from four rows of the best single block vines Mr. Perez owns. The wine is magnificent with silky tannins, fresh acidity, and stony minerality. They are sold in places that "understand wine" for over 100 Euros.
The last wine we taste is called Excellence 2014, and it is named after Mr. Perez's young children, Elise and Eric. Here the Grenache grapes are vinified in a normal way, but then fortified with spirit and pumped over every day for a month. The result is a delicious wine with 90 g/L of residual sugar, an nuances of flavors and aromas that include anise and dark black spice.
It was a great visit to beautiful winery and a creative owner/winemaker who knows his objective – very high quality, striking wines – and has already achieved them.