It was such a pleasure to meet the dynamic young M. Laurent de Bescombes of Domaine Singla, who came to the Conseil Interprofessional des Vins du Roussillon (CIVR) office to introduce his wines. He is a charming energetic man who since 2001 has been running his family's estate which dates back to 1760.
The winery is located in Rivesaltes. While historically the domaine has specialized in sweet wines, I was most impressed by their excellent dry red wines. They have a finesse and elegance one typically attributes to the finest wines of Bordeaux or Rioja. The quality and structure of the tannins is a testament to great care in the vineyard as well as the winery.
Passionate about the terroir and the quality of the grapes, Laurent initially engaged in biodynamic farming, but for a variety or reasons switched to organic farming.
Here are some notes from the tasting.
Dry Wines

La Grinyane 2013, AOP Cotes Du Roussillon Village.

This is a modern oaked red wine with a broad structure, fresh and delicious.
2011 El Serrat AOP Cotes Du Roussillon Village
This is a concentrated, rather rich oaked wine with incredible structure and power and very savory fruit. The majority of the fruit is Mourvedre.
2013 Arrels

This is a blend of 2/3 Syrah and 1/3 Carignan. It spends two years in 100% new oak. It is an incredibly intense dry red wine with powerful structured sweet gripping tannins, with a dry finish. One of my favorites.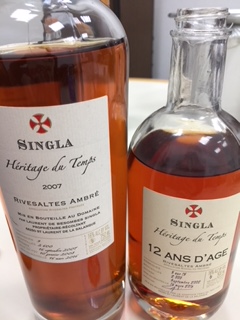 Sweet Wines

Rivesaltes 12 years of age
Incredible wine with aromas and flavors of orange zest, almond flower. Macabeo is the core varietal here.  The wine has 100 g/L of residual sugar and vibrant acidity.
1946 Singla Heritage du Temps
What an honor to taste this wine! It is brown in color, with earthy minerality, a brown color, long length of finish and lively acidity. There is a slight hint of mint and herbs. The residual sugar is about 75 g/L .
1969 Singla Heritage du Temps
Another very special wine to taste. Surprisingly this wine has more residual sugar than the 1964 at 120 g/L. This appears to be because the pure spirit required for fortification was added later in the fermentation process. This wine has aromas and flavors of orange peel and spice. It was aged in a variety of vessels including demi muid and demi-john.
It was a great pleasure to met Laurent de Bescombes and taste the wines his family has been making for so many centuries.
Below is a video that shows Laurent in action.