In 1800, Joaquin Murrieta discovered a well on the property now known as Murrieta's Well, and claimed the water was the best in the country. Fast forward to 1884 and French immigrant Louis Mel fell in love with the estate and built one of California's Original gravity flow wineries.
Today winemaker Robbie Meyer grows and creates wines that reflect the best story of the estate each vineyard.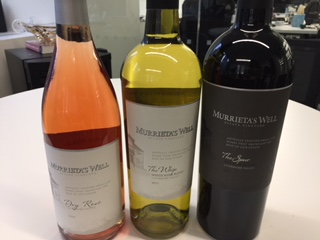 I had the occasion to try three wines:
Murrieta's Well The Whip White Wine Blend 2015 ($24) is a blend of five distinct varieties: including Sauvignon Blanc, Semillon, Chardonnay, Viognier, and Muscat. Dry, racy acidity, and delicious.
Murrieta's Well Dry Red Rosé 2016 ($30) A year round rose made from Provence grape varieties, mostly Grenache and Counise from the estate. Crisp amd refreshing
Murrieta's Well The Spur Red Wine Blend. 2014 ($30) – a great expression of Livemore valley using classic Bordeaux varieties and Petit Sirah from the estate. Very rich and complex
I liked all these wines and they are a great value for the money. I hope to visit the estate soon and talk to Robbie Meyer about his techniques.