A very exciting auction at the Hospices de Beaune 2017, which raised a record 13.5 million euros for charity. The bidding frenzy was fast and furious, fueled on by the appearances of celebrities such as Charles Aznavour, Marc-Olivier Fogiel, Agnes b, and Julie Depardieu there to encourage support to pay for research for their various causes.
The idea of raising money to help those in need first began here in 1445, with the money used to establish the hospice (you can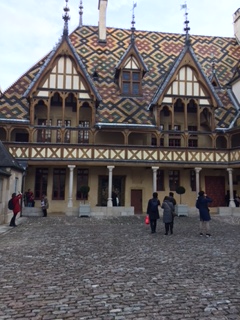 still see a recreation of the beds and small rooms in the Hotel Dieu today).
In 1859, the auction was re-established to raise money for the community and health-oriented research, which continues today.
The afternoon was filled with excitement, with the highest-paid lot the Corton Grand Cru – Clos du Roi Cuvee des Presidents.  Following that was  Batard Montrachet Grand Cru  Cuvee Dames de Flandres.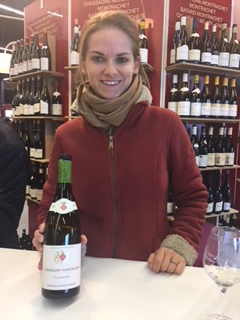 In addition to the focal point of the auction, the weekend offered many opportunities for the trade to learn about the 2017 and taste the wines. Of primary importance was a tasting on Friday morning which allowed the trade to taste the 2017 vintage from various appellations, as well as some older vintages.  That morning, there was also a special tasting of the newest appellation, Vezelay, as well as a special focus on Saint-Veran, Morey-Saint-Denis, Bourgogne Hautes Cote de Beaune and Bourgogne Hautes Cotes de Nuit.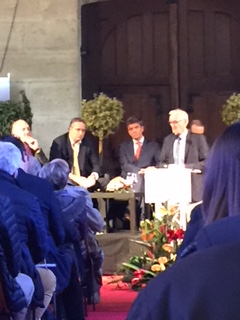 Then of course there was the pre-auction press conference, where journalists from around the world had the opportunity to ask questions about the vintage as well as conditions in the export market.
It was a wonderfully well done weekend of excitement with much appreciation to the BIVB, Christies Auction House, and all who worked so hard throughout the year to put this event in motion.