Albarino from Rias Baixas is a great choice to pair with lighter dishes for the holidays, or any day of the year.
Sommeliers love the wine because of its crisp, refreshing style that pairs with everything from composed salads (see recipe below) to shellfish dishes like crab and oysters, and white fish.
These are two great examples of this refreshing wine with vibrant acidity, a sense of salty minerality, and discreet nuances of fruit such as peach, apricot, or apple.
Laxas Albarino 2016

This is a clear straw colored wine with vibrant acidity, aromas of apple and apricot, and a crisp dry finish.
Abadia de San Campio Albarino 2016
This dry, unoaked wine has tangy acidity, meyer lemon citrus notes, and a very refreshing dry finish with saline minerality.
If you like to cook, this salad would be perfect. It is from Chef Shoshana Quint has created harvest recipes that showcase the versatility and style of Rías Baixas wines.
Roasted Acorn Squash with a Pomegranate Glaze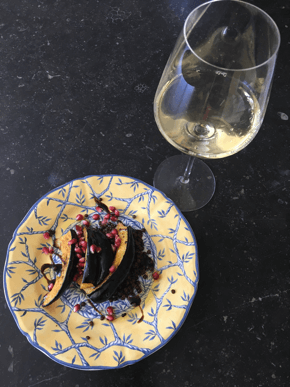 Ingredients:
• 1/4 cup olive oil
• 1 medium acorn squash
• Kosher salt and ground black pepper
• 1/2 cup chopped fresh parsley
• 1/2 cup pomegranate arils (seeds from one half a pomegranate)
• 2 tablespoons pomegranate balsamic vinegar or pomegranate molasses
Method:
Preheat oven to 425 degrees F. Cut the acorn squash first in half, and then with a spoon scoop out the seeds. Cut each half into one-inch pieces so they look like little moons. With a pastry brush, brush each piece of squash on both sides and place them on a cookie tray lined with parchment. Season with Kosher salt.
Transfer to oven and roast 30 minutes or until golden brown and tender, turning once halfway through.
Transfer squash slices to serving platter and sprinkle with parsley and pomegranate arils then drizzle with the remaining oil and the pomegranate balsamic vinegar.
Yield: 4 servings