A very lovely visit to the Vignobles Constance et Terrassous, a cooperative in Terrats with 80 wine grower partners. Before visiting the brightly colored shop to sample the fine sweet wine, representative Ms. Albe Chassagnac.
accompanied into the nearby vineyards in order to see the unique terroir of the area.
Words can barely describe the dramatic topography of the region. If you have ever seen as mosaic, you will know that different colors and shapes of tile form a picture. In a similar way, in all the vineyards one can see a gorgeous display of schist, granite, and even fine grained sand, along with shrubbery and garrigue so common to the region. Assuring us we might be able to taste some of the aromas (lavender, mint, rosemary, wild fennel) we smell in the vineyards, she picked a few herbs to take back into the shop.
The shop is attractively decorated and brightly lit. On weekends the shop is bustling with local families buying wine and gifts now that the holidays are here. Brightly colored, delicious looking bottles of mostly sweet wine in every hue of yellow, gold, amber, and brown line the very clean shelves.
The first wine we taste is Muscat Sec Cotes Catalanes, it is a dry Muscat made from Muscat a Petits Graines with aromas of flowers, nutmeg, and heavy white flowers. It is made by harvesting the grapes in the early morning, direct press, and fermentation at low temperatures (14 – 18 C) with a short aging on the lees before bottling the spring after harvest. It would be a great style of wine to serve with salad.
The next wine is Chateau Chateau Mossé Du Roussillon, a blend of Syrah, Grenache, and Carignan. A black purple color with aromas of black cherry, floral notes, and red peppercorn. A delicious wine to serve with a steak.
Terrassous Villare Julliani Cotes du Roussillon is another blend of Syrah, Grenache, and Carignan with black cherry aromas on the nose and structured tannins. 15% abv.
Les Pierres Plates Cotes Du Roussillon is a popular Syrah, Grenache, Mourvedre grapes that spends 18 months in oak, 1/3 new. It has a black color, aromas and flavors of black licorice, and silky tannins with 15% abv.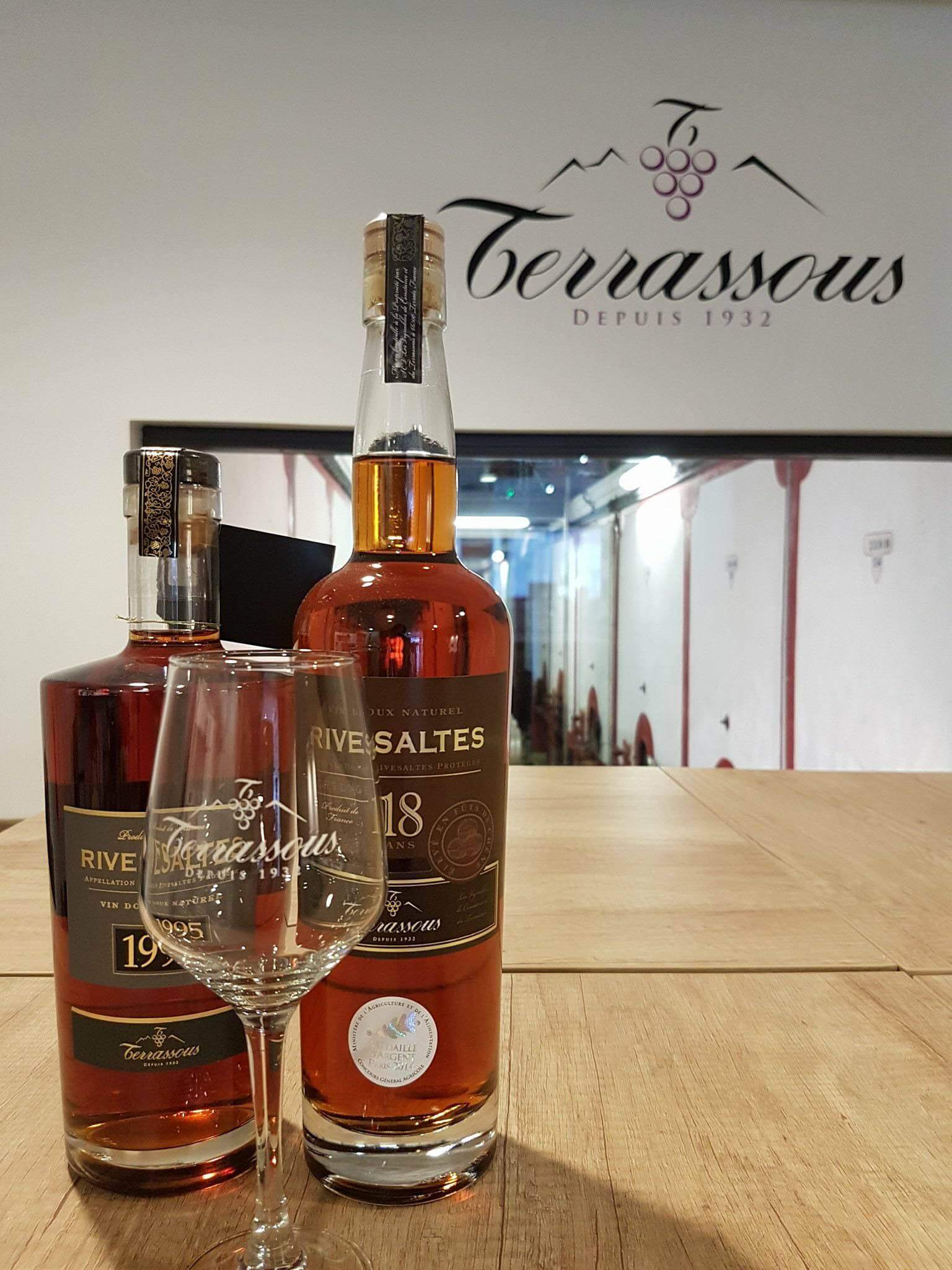 Though the red wines have a powerful elegance to them, I am anxious to explore the sweet wines.
We begin with the Rivesaltes 18 years, made from Grenache Blanc and Gris. It is harvested with fresh grapes, like a dry wine, then directly pressed. Before fermentation completes it is stopped with spirit, and put in a barrel to rest for 18 years. It has delicious aromas and flavors of caramel, roasted apricots, honey, butter, and caramel. Though it has 120 g/L of residual sugar, the sweetness is offset by vibrant acidity. It is 16% abv. Though a sweet wine, it can be enjoyed with Asian food as well as form the basis of a delicious cocktail.
Next is the 1992 Rivesaltes, a longer aged wine with more concentrated flavors of nuts, more rancio (deliberately oxidated). Absolutely fantastic.
It was a wonderful visit with Ms. Albe Chassagnac, and that walk through her winemakers' vineyards was unforgettable. And yes, I could taste some of that fierce Roussillon fragrant herbs and stony minerality of the soil in the wines!