The opportunity to visit Mas Amiel has always been a top priority in my wine education. Like many other students in the Wine and Spirits Education Trust (WSET) educational program, the subject of fortified wine is an actual course in itself.  It was necessary to study all the different styles of fortified wine, from Sherry to Maury to Port.
Each region specializing in fortified wine has its own unique character, yet Mas Amiel from Maury is unique.
Maury has a dramatic landscape, and even before I had the opportunity to visit I somehow envisioned it a bit like the landscape in the children's' book Where the Wild Things Are.
According to ancient legend, a few hundred years ago the property fell to a simple civil engineer named Raymond Amiel who won it in a poker match.
Since 1999 the owner of the property has been Olivier Decelle, who purchased it when he was the CEO of Picard Surgeles. Before the purchase, he had been looking for a small wine property as a hobby. When he first saw Mas Amiel, he fell in love with it.  After the purchase, he devoted time, money, and energy into putting the property and its vines into shape.
There are 170 hectares of vineyards here, but yields are small. And though sweet wine is historically the specialty, Mr. Decelle had some specialists come to perform a soil analysis to see if the production of dry wines were possible.  Happily now the property makes premium quality dry wines too.
Now on my much anticipated visit I am greeted at the property by the Nicholas Raffy, a serious, fast moving man overseeing both the viniculture and the winemaking.
After a brief tour, we begin the tasting in a small ranch-style house just steps away from the large, very modern, purple-colored showroom that can be seen from miles away with its distinctive amber  MA logo.
The tasting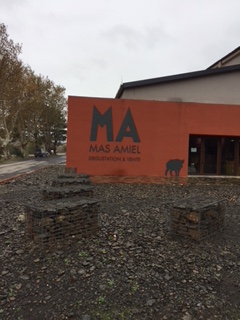 Chardonnay Altair Mas Amiel 2014
This is from a single plot of 70 year old vines, produced in an organic way. Though a bit austere very delicious.
Grenache Noir 2014

This blend comes from 18 different plots and is aged in concrete for 12 months. Very rich and intense.
Red Blend 2014

This wine is comprised of a third each of Carignan, Grenache Noir, and Syrah. The wines are fermented separately then blended into foudre sized barrels for two years than two more years in bottle.
Legende Mas Amiel 2015

This is a blend of 80% Grenache Noir and 20% Carignan with grapes grown on schist soils. There is a tremendous amount of texture and power to these wines.
Now we begin with the fortified wines
Charles Dupuy 2009

This wine is made from Grenache Noir grown on schist soils. It is incredibly concentrated and delicious.
Mas Amiel 1985 Maury
This is a single vintage wine that spends a year in demi-john (a large jar) out of doors, then it is taken indoors and put in large foudres. It is made from 100% Grenache Noir. It has flavors of spice, raisins, and black tea and is quite delicious.
Thanks so much to the Mas Amiel team for the excellent tasting.