It was a pleasure to meet the enthusiastic Jean-Claude Pedrol, a high ranking official at the Dom Brial cooperative in the Roussillon.
With 250 growers, it is one of the biggest cooperatives in the area, selling over 11 million bottles last year. The bright looking showroom is very attractive and is filled with elegantly displayed bottles of wine. Many local residents come here on a weekly basis to buy wine for themselves and as gifts for others during the holidays.
The cooperative began in 1923, as growers in the area felt that the larger negotiants were taking advantage of them and not paying them what they felt their grapes were worth.  They decided to band together and pool their resources in order to buy equipment and hire a winemaker. In 1960, the cooperative began to bottle wine. Today there is a president (typically a winery owner who serves a specific term), export managers who speak many languages and sell to many markets, and others in charge of the look and branding of the wine.
Growers are paid by a specific criteria, which is based on the quality of the grapes they bring in (very sophisticated equipment takes samples of the grape, measuring the ripeness, acidity, etc).  Interestingly, they are also paid in terms of their specific terroir and soil type.
The Roussillon is famous for its sweet wines, yet sadly sweet wines are no longer in fashion in the local market. Exports of sweet wine, Mr. Pedrol says, are also down because people are worrying about their weight, as well as imbibing more alcohol in a country with very low tolerance for driving under the influence.
Though I am very excited to begin immediately tasting the sweet and dry wines, Mr. Pedrol invites us to visit the winery which is just down the block. It is a cloudy grey day so it is quite welcome to step inside the very attractive looking barrel room where the barrels of finer red wine rest in Bordeaux barrels. The aroma of Grenache Noir (a majority in the Roussillon blends) maturing in French oak, often new, is quite attractive. Equally fragrant is the aroma of sweet wine resting in their barrels, a variety of sizes as is the tradition here.
In the tasting room, Mr. Pedrol professionally lines up the bottles we are to taste.
First, he explains that the Don Brial cooperative offers three key brands. First, there is the branded Don Brial, followed by the Les Pins (offering five dry wines, 2 sweet) . and the "second tier" of the elegant Les Pins, called Les Petits Pins.
Don Brial Chardonnay 2015
A fresh dry wine with crisp acidity and concentrated fruit.
Don Brial Cote de Roussillon 2015 Rouge
This is a modern, unoaked fruit-led wine composed of 40% Syrah, 30% Grenache Noir, 15% Mourvedre, and 5% Carignan. The grapes macerate 8 – 10 days, at temperatures of 25 – 27 C and it ages for 9-10 months in a neutral vessel.

Don Brial Mirade Cote de Roussillon Village 2014
This is a blend of 60% Shiraz, 30% Grenache, 30% Mourvedre that undergoes a 10 – 12 day maceration. It is a modern unoaked fruit-led wine quite delicious.
Don Brial Don Crest Petit 2013
Here there is 80% Syrah, and 20% Grenache Noir. You can tell how delicious it will taste just by looking by the dark near black color. It has flavors of black cherries and aromas of violet, many nuances that showcase its complexity.
Chateau Les Pins Rivesaltes 2012
This is a sweet wine with 16% abv and 110 grams of residual sugar. One of my favorites.
The next sweet wines are the top quality wines the Don Brial cooperative is famous for …
Don Brial Rivesaltes 1979
This wine can well serve as the logo of the Roussillon region as it represents everything that the region is famous for. The amber color comes from decades of aging in very old barrels. Back in 1979, this wine was ple white. It has 100 g/L of residual sugar and tastes like a tawny port with its flavors of yellow plums, golden raisins, and brown sugar but surprisingly fresh acidity.
Don Brial Rancio 1983
This is another wine made in a classic rancio style with years of bottle age. Really delicious!
Don Brial Muscat Xmas 2017
This is a fresh young wine with vibrant aromas of fresh white flowers, such as honeysuckle. It is delicious to taste and smell. It is a Vin Doux Natural so it is sweet, with 115 g/L of residual sugar and 16.5 % abv.
It was a wonderful visit to Don Brial and I can't thank Mr. Pedrol enough for his friendliness and excellent presentation of the wine.
I love what the cooperative is doing in terms of creating its own unique "Christmas wine" which gets everyone in the community in the mo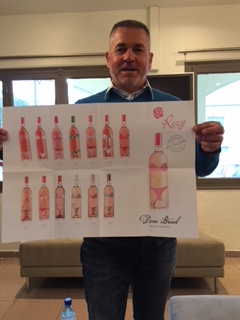 od to celebrate Christmas and the holidays.
And I'm glad they are holding on to their tradition of sweet wine. There are many ways to cut down on the sugar and alcohol, if that is important to you. One option to try is to mix just an ounce or two of the sweet wine with tonic water and serve it as an aperitif.
I also love the cooperative's spirit of fun and joy. In summer, for example, they have created a rosé wine specifically to be sold to beachside cafes in Europe. Each year, the bottle is "decorated" in a different bikini!