What a fabulous wine lunch at Riverpark restaurant in NYC with "guest star" winemaker Tyler Thomas of Dierberg & Star Lane Vineyards.
Tyler Thomas is the dream of any wine journalist – especially if that journalist happens to be the geeky sort curious about fermentation temperatures and how, exactly, the tannins of the Drum Canyon Pinot Noir from the Santa Rita Hills happen to be so velvet.
Wearing a pumpkin orange sweater, Tyler waited a few moments for the wines to speak for themselves until explaining more about his own personal journey into wine and the philosophy of the wine being made at Dierberg.
Possibly the second most important thing you need to know about Tyler is that he is a self-described "fermentation geek" in that he likes to make bread in his (rare) spare time. Though his mother had high hopes he would become an engineer, he became fascinated with botany in collage and at the same time enrolled in a wine tasting class and club. After touring New Zealand and visiting various wineries, he decied to become a winemaker and earned his degree in Viticulture and Enology from UC Davis where in his own words he learned "how to approach winemaking with critical thought."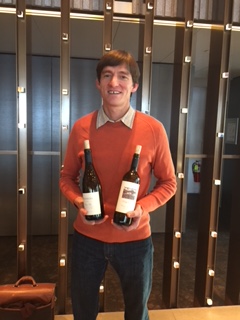 Tyler's first job was at Hyde de Villaine (HdV) where he worked closely with winemaker Stephane Vivier. The lessons learned from working with a Burgundian winemaker who made wines from California fruit manifested itself in today's tasting, as the two delicious Pinot Noir examples from the 2014 Dierberg Drum Canyon Vineyard and 2014 Dierberg Santa Maria Vineyard both had the elegance of Burgundy but the rich sweet fruit of Santa Maria.
Jim and Mary Dierberg are the owners of Dierberg Star Lane vineyards. In 1971 the couple discovered the small town of Hermann, Missouri and among other acquisitions, purchased one of the country's oldest wineries, Hermannhof Vineyards, first built in 1852 but closed since Prohibition.
After relaunching that winery, they moved to California's Central Coast at Star Lane and established the present Dierberg Star Lane winery. During lunch, Tyler and the assembled journalists mused the possible origins of the name "Star Lane." Was it because it was a dude ranch for wealthy Hollywood stars? Or because the sky was so clear one could see the stars at night?
Either way, the important thing is that the Dierbergs, their children, and now grandchildren — along with Tyler Thomas – are all very focused on making the wine from this land very top quality. They have three precision-farmed vineyards located in three Santa Barbara AVAs. The Star Lane estate in Happy Canyon is home to 200 acres of high altitude vines producing Bordeaux varietals. The 160 acre Dierberg Vineyard site in Santa Maria Valley is planted to 12 "heritage" clones of Pinot Noir that traced back to Burgundy, and also has Chardonnay selections derived from marquis cuttings of historical Wente clones. The Drum Canyon vineyard in the Santa Rita Hills is planted to 70 acres of Pinot Noir and Chardonnay on steep hillsides.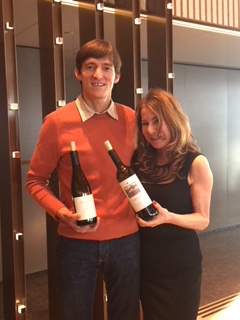 The two Chardonnay wines from Santa Maria Valley, the 2014 and 2015, were both delicious, rich, and obviously barrel fermented from the excellent integration of oak in the fuller body of the wine. The two Pinot Noirs were also excellent, but came from two different vineyards. I preferred the darker, richer, more voluptuous and intense Sta. Rita Hills Drum Canyon 2014, though the Dierberg Vineyard from Santa Maria Valley was also elegant. The two Pinot Noirs were characterized by very rich ripe sweet fruit and those remarkable velvet tannins. The Star Lane Vineyard Cabernet Sauvignon from the Happy Canyon AVA was a delight, a very well-made lighter style, but the true "star" was actually named STAR, it sells for about $200 a bottle and is aged three years in French oak and has incredible concentration of fruit and a long finish with a great deal of finesse.
According to Tyler, the Dierberg family has a 200 year business plan. They are dedicated to producing the highest quality of wine possible, and are concentrating their work in the vineyard as well as the cellar. Charles "A.J." Fairbanks is president of Dierberg Star Lane, and responsible for developing all marketing and branding strategies as well as overseeing the various sales channels and works closely with both Tyler and the Dierberg family.
It was very refreshing to taste such precisely-made wine expressing the ripe premium Santa Barbara fruit, and meet a well-trained, passionate winemaker really excited about the potential of the region and already showcasing the fruit of his hard work.