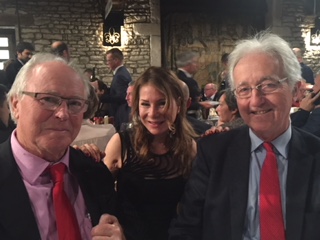 It was such an honor to be part of one of the most exiting lunches in the history of the world, known as the La Paulée  de Meursault.
Though this celebration of the harvest first manifested in 1923, when Jules Lafon of Burgundy's Domaine Lafon invited 35 of his vigneron friends into his vat-room to share in a post-harvest feast, by 1932 it had become a regular event.
Today La Paulée de Meursault has grown to international fame, and is one of the three key events referred to as Les Trois Glorieuses which take place the third weekend of November to coincide with the Hospices de Beaune auction. The name  Les Trois Glorieuses refers to the two coveted events that bookend the Hospices de Beaune auction at the 15th Century Dieu. They are the Confrérie des Chevaliers du Tastevin at the Château du Clos Vougeot.on Saturday night, and the La Paulée de Meursault that begins the following Monday after the auction at noon.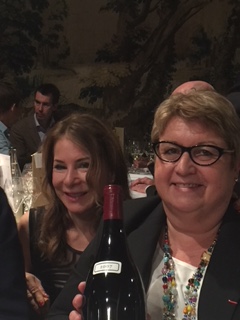 Today, under the direction of Philippe Ballot, President of La Paulée de Meursault and an owner of Domaine Ballot Millot, the lunch also pays homage to famous writers and scientists each year. This year, the honorees included the writer Philippe Claudel (Lauret du prix de La Paulée  2017) and  Sophie Trouvelot (Laureate du Fonds du Dotation Monique et Andre Boisseux 2017).
Before lunch, guests are invited to visit the famous caves of the Chateau de Meursault, and offered a glass of Meursault It is an exciting and rather tantalizing experience to see the gorgeous barrels of Meursault quieting maturing in barrel.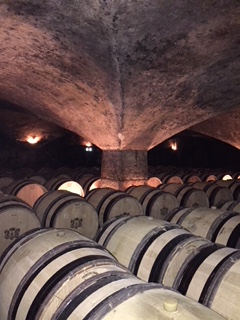 It was such an incredible experience to be part of this celebration, which was filled with all the important Meursault producers and international visitors in the wine trade. I was also thrilled to be seated with Marielle Adrian, a researcher from the University of Bourgogne, who worked with Sophie Trouvelot on research to prevent trunk disease.
During the four courses of this elaborate meal, producers come by to pour their most famous wines from their best vineyards. At the same time, a uniformed local chorus sing "Le Bon Bourguignon" and friends greet one another.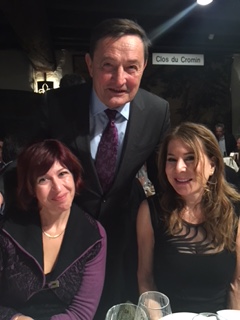 It was great to see familiar faces in the crowd, such as Anne Parent, Dominique Lafon of Comtes Lafon, and even Daniel Johnnes, the entrepreneur who took the La Paulée  concept and created La Paulée  style  events in San Francisco, New York, and now London.
The beautifully printed gold programs had spaces for guests to write notes about the wines they were poured. A new wine seemed to be poured every two minutes, so it was often necessary to make a mental memory.
It was one of the highlights of the year, a fabulous event that not only showcases the delicious wines of Meursault and the Burgundy region, but pays homage to scientists and writers as well.