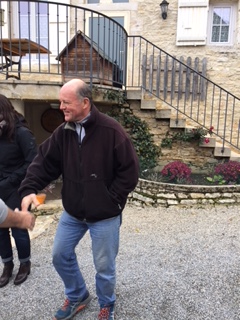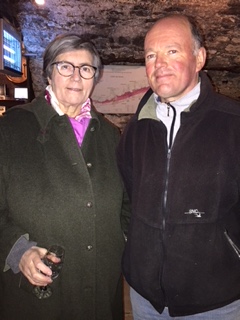 One can always count on Jeanne-Marie Du Champs to represent the very best producers in their region. This was not my first time to visit Domaine Langoureau, but each time I visit I appreciate this charming couple and the dedication they have to their vines and wine.
One feels a sense of excitement upon entering the driveway of the couple's gorgeous residence, that has pretty flower pots, charming miniature doors, and a hidden wine cellar in the basement of the home.  And as one enters the cellar, one can often hear the sound of wine bubbling away during the malolactic fermentation.
Sylvain and Nathalie own plots in Meursault, Puligny, Chassagne and Saint-Aubin, including 1er Cru En Remilly,. This vineyard is considered one of the finest vineyards in Saint-Aubin, which is actually a continuation of Le Montrachet.
The couple work by done by hand. Vines are pruned to a maximum of five shoots for naturally low yields. Cover grass is used in certain parcels to promote water competition and to minimize erosion. Very little new oak is used here, and the yeast is ambient.
It was a lovely visit with fabulous white wines.